Find out at flug-check-in.de how you can easily check in your flight online with easyJet in just a few minutes.
How does online check-in work at easyJet?
1. easyJet online check-in can be done either via the website or via the easyJet app . For a web check-in, open the easyJet home page:
https://www.easyjet.com/de
2. When you are on the airline's home page, you will see the item "Check-in" in the upper right corner of the orange menu. If you click on this item, a log-in mask will open on the side.




3. Now you will either need to log in to your existing easyJet account or you can search for your booking if you do not have an account.
4. When logging in via the customer account, you must enter the stored e-mail address and the correct password. If you wish to do the check-in without an account, you will need to provide your family name as well as the booking reference number.
5. As soon as you have successfully logged in or found your flight, you can start with online check-in. Before doing so, however, we recommend that you compare the flight details online with the flight details on your booking.
6. For check-in, enter all the requested information. Among other things, you will be asked for your first name, last name and passport number.
7. easyJet online check-in also allows you to select a seat or book additional services.
8. If you have successfully completed the online check-in, you will receive your boarding pass. You can save them on your smartphone or print them out.
easyJet online check-in information
When is easyJet online check-in possible?
As a rule, easyJet online check-in is possible from 30 days before departure up to 2 hours before departure.
How do I get boarding passes after online check-in?
The easiest way to do this is to download the easyJet app. Once logged in, you have quick and easy access to your flights and boarding passes via the app, which you can of course show digitally at the airport. Of course, you can also save and print the boarding pass.
NOTE: Unfortunately, you will not be able to use a PDF scan on your mobile device, as the security team at the airport will not be able to scan it. This means that the boarding pass must either be stored in the app or brought in printed form.
Baggage policy easyJet
Hand luggage easyJet
Number & Weight
1 small hand luggage (15 kg) is allowed per person. This must fit under the seat in front of you.
In addition, large hand luggage with max. 15 kg can be booked additionally.
Size
The following applies to small hand luggage:
45 x 36 x 20 cm
The following applies to large hand luggage:
56 x 45 x 25 cm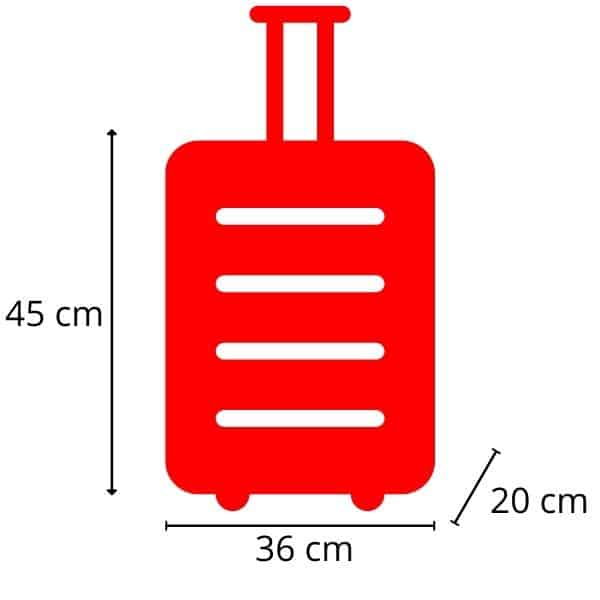 Checked baggage easyJet
Passengers are allowed to check in up to three pieces of baggage. A baggage may not exceed the size of the bag. Weigh 23 kg. However, it is possible to buy an additional weight of 3 kg (up to a maximum of 32 kg per baggage).
What is prohibited in carry-on baggage?
There are some items that are absolutely prohibited in carry-on baggage due to possible danger to passengers and crew.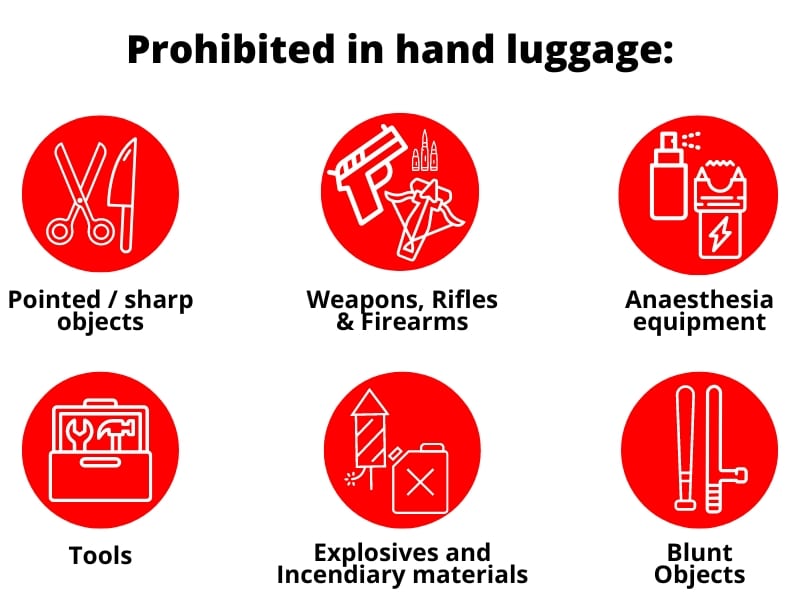 Weapons, Rifles & Firearms
Pistols, revolvers, rifles, shotguns and other firearms of all kinds
Parts of firearms
Toy weapons, as well as replicas and imitations of real weapons
Signal pistols and starting pistols
Pointed or sharp objects
Razor
Needles
Axes, hatchets and cleavers
Knives and scissors
Utility knife
Swords and sabres
Anesthetic devices
Taser, stun guns, stun sticks
Apparatus for stunning and killing livestock
Chemicals, gases or sprays that cause incapacitation
Tools
Crowbar
Drills
Saw
Bolt guns
Blunt objects
Baseball and softball bats
Clubs and batons like bats
Martial arts equipment
Explosives and incendiary substances
Ammunition detonators
Detonators and detonators
Replicas or imitations of explosive devices
Dynamite, gunpowder and plastic explosives
Who is behind easyJet?
easyJet is a British Airline and part of the easyGroup. In addition to the Luton near London-based easyJet Airline Company has the subsidiaries easyJet Switzerland, based in the Swiss Meyrin and easyJet Europe , based in Vienna. easyJet is Europe's second largest low-cost airline after Ireland's Ryanair.
What's so special about easyJet?
As a low-cost airline, easyJet follows a "no-frills" concept. You pay comparatively little because the usual extras are not included in the price (e.g. newspapers, drinks or food), but are offered for a fee.
Other airline?
You don't fly with easyJet, but with another airline? No problem. We have instructions for many other airlines. These can be found on https://flug-check-in.de/