The airline airBaltic offers online check-in as a quick and easy way for travelers to check-in at home. This not only saves you time, but also stress at the airport.
On this page you can find out how airBaltic online check-in works and what you should consider when flying with this airline.
Step-by-step online check-in
1. The following link will take you to the airBaltic online check-in:
https://www.airbaltic.com/
2. Select the item "Check-In" in the menu: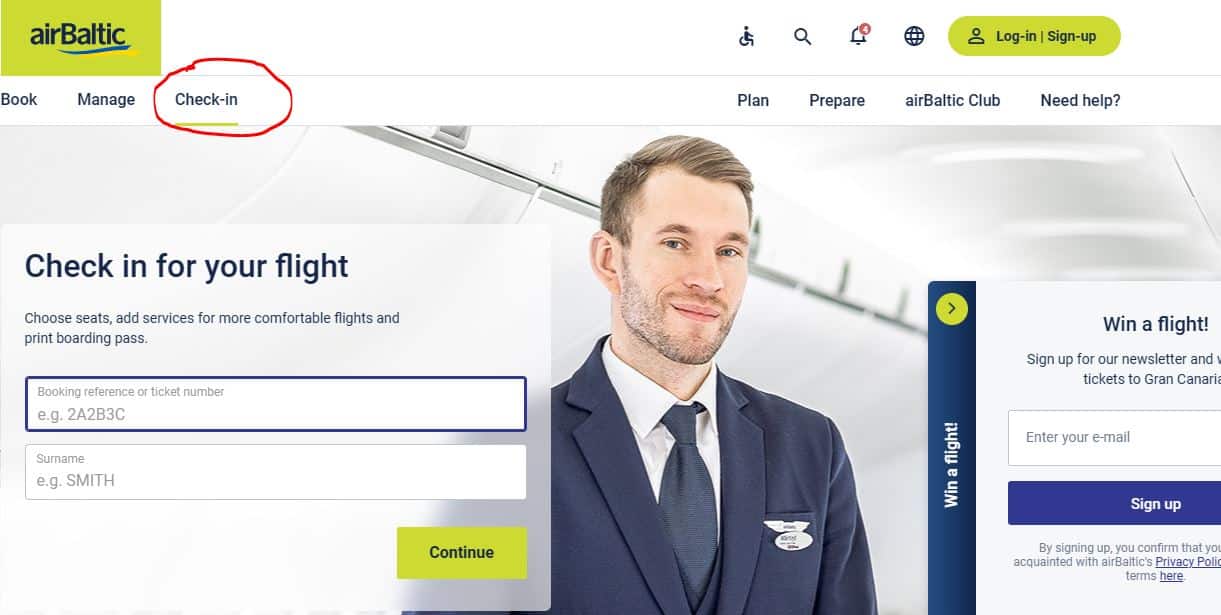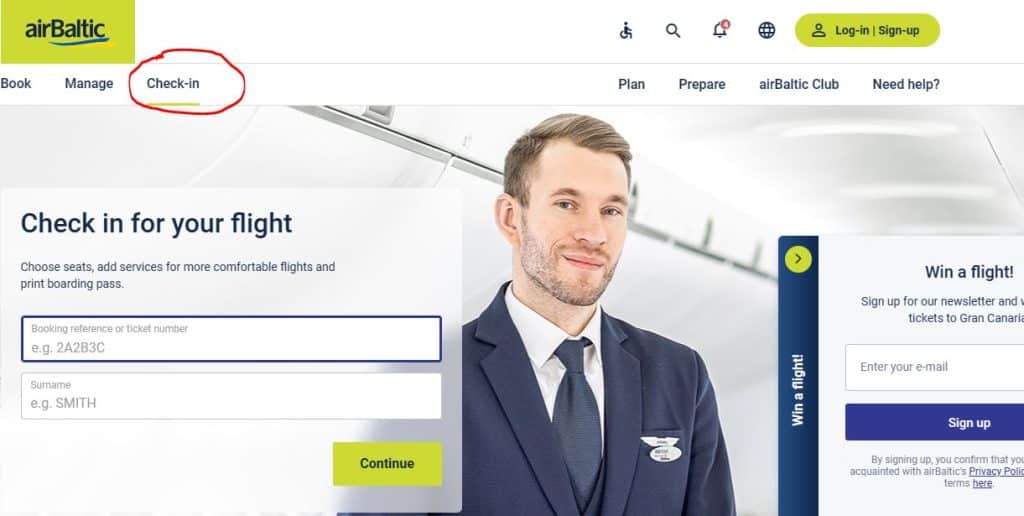 3. Now you need your booking or ticket number as well as your last name so that you can log in to the check-in area.
4. First compare the dates of the displayed flight with the information on your booking documents to make sure that it is the correct flight.
5. When you do the check-in, you can also reserve a seat directly or book other services if you wish.
6. After completing the airBaltic online check-in, you will receive your boarding pass. You can save these or have them sent to you by e-mail.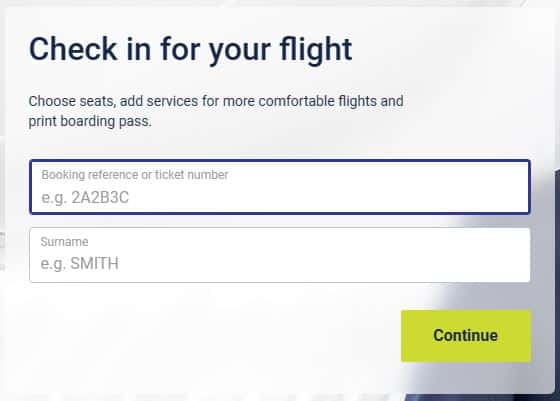 ---
When does airBaltic online check-in become available?
Business, Classic, Green Plus or Green Class with seat reservation
If you are travelling in one of these classes and have already reserved a seat for the flight, online check-in is available 5 days or 118 hours before the scheduled departure.
Green or Green Plus class without seat reservation
Without a seat reservation, online check-in is available in this class 36 hours before departure.
Information about airBaltic's online check-in
How do I check in my baggage after online check-in?
If you have checked in online, you can check in your baggage at a baggage drop-off counter . However, baggage drop-off counters close at the same time as check-in counters.
The cost of check-in
Check-in at the airport usually costs around €35 per passenger – regardless of the flight ticket.
For more information on airport check-in, please visit airBaltic.
Which destinations are included in the online check-in?
You can carry out online check-in for the following destinations:
Aberdeen, Amsterdam, Athens, Barcelona, Bergen, Berlin, Billund, Brussels, Budapest, Catania, Copenhagen, Corfu, Dubai, Dublin, Dusseldorf, Frankfurt, Geneva, Gothenburg, Hamburg, Helsinki, Heraklion, Las Palmas, Larnaca, Lviv, Lisbon, London, Madrid, Milan, Malaga, Munich, Naples, Nice, Olbia, Oslo, Palanga, Palma de Mallorca, Paris, Pisa, Prague, Reykjavik, Rhodes, Riga, Rome, Stockholm, Stuttgart, Tallinn, Tampere, Tbilisi, Tel Aviv, Tenerife, Thessaloniki, Trondheim, Turku, Venice, Verona, Vilnius, Warsaw, Vienna, Zurich.
Who can NOT use online check-in?
Passengers…
who have booked an additional seat in the cabin (e.g. for luggage, baby seat, baby crib or other)
need the accompaniment of minors
departing from an airport that does not have online check-in
on charter flights
transporting a cello
with identical first and last name in one booking
who have booked children in a separate reservation
---
AirBaltic's baggage policy
Checked baggage
For airBaltic flights, there is a maximum dimension of 100x50x80 cm for each checked baggage.
Business Class
In business class, 2 pieces of baggage with a total weight of .max. 46 kg (max. 32 kg per piece of luggage) included free of charge.
Green Plus and Classic class
In these classes, 1 checked baggage is included free of charge. This may weigh a maximum of 23 kg .
Green Class
In Green Class, a fee is charged per piece of baggage per route.
Fees per route for the Green class (as of February 2023):
However, the fees may vary depending on the selected route and flight duration.
from €19.99 when booking your flight with airBaltic.com
from € 25.00 when booking luggage via "Manage bookings" or when checking in online
from 20,00€ via a point of sale such as a travel agency
approx. € 60.00 when booking luggage at the airport
approx. € 60.00 at the gate if the carry-on baggage exceeds the permitted weight or size and it must be checked in
The carry-on baggage
Number & Weight
In Economy Class, 1 carry-on baggage and 1 personal baggage are allowed with a total of .max. 8 kg allowed.
Size
For all classes there is a max. Hand luggage size of 55 x 40 x 23 cm.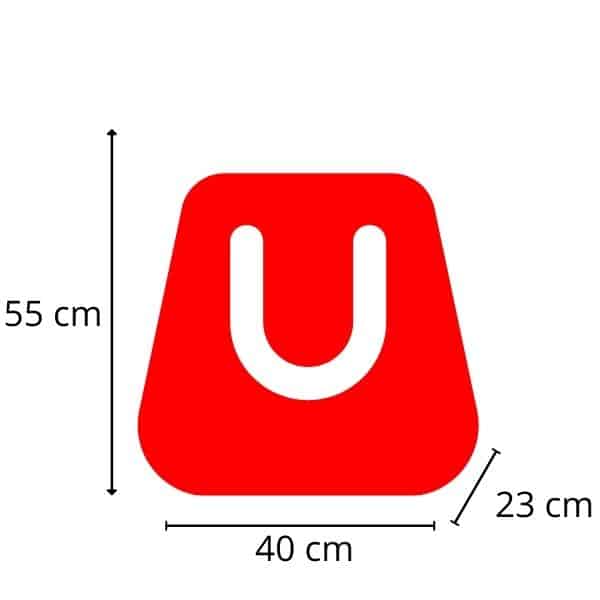 What is prohibited in carry-on baggage?
There are some items that are absolutely prohibited in carry-on baggage due to possible danger to passengers and crew.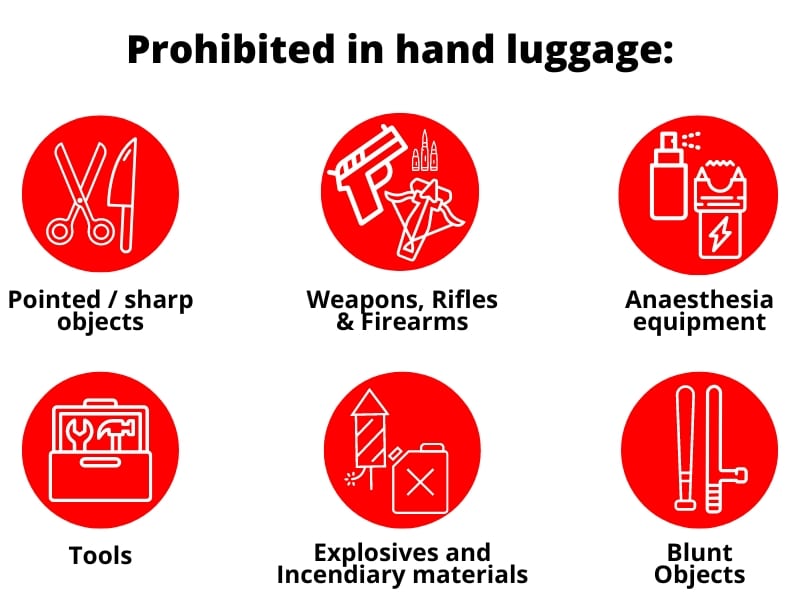 Weapons, Rifles & Firearms
Pistols, revolvers, rifles, shotguns and other firearms of all kinds
Parts of firearms
Toy weapons, as well as replicas and imitations of real weapons
Signal pistols and starting pistols
Pointed or sharp objects
Razor
Needles
Axes, hatchets and cleavers
Knives and scissors
Utility knife
Swords and sabres
Anesthetic devices
Taser, stun guns, stun sticks
Apparatus for stunning and killing livestock
Chemicals, gases or sprays that cause incapacitation
Tools
Crowbar
Drills
Saw
Bolt guns
Blunt objects
Baseball and softball bats
Clubs and batons like bats
Martial arts equipment
Explosives and incendiary substances
Ammunition detonators
Detonators and detonators
Replicas or imitations of explosive devices
Dynamite, gunpowder and plastic explosives
---
General information about airBaltic
Is the national airline of Latvia and has its headquarters and base in Riga. The airline was formed in 1995 by the merger of Baltic International and Latvian Airlines.
airBaltic flies to countries throughout Europe, the Middle East and the Middle East. In 2017, airBaltic had the best punctuality rate of any airline in the world with a score of 90% punctuality (defined as "less than 15 minutes late").