Take advantage of KLM's online check-in and enjoy the many benefits. KLM online check-in allows you to check in quickly from the comfort of your own home.
Step-by-step check-in at KLM online
Open KLM's online check-in via the following link:
https://www.klm.com/check-in
You can now choose whether you want to check in online using your ticket number, booking code or loyalty program number.
According to your selection, provide the ticket number, booking code or loyalty program number, your last name and flight number.
Once you are logged in, you will see the details of your flight. Please check with the information on your booking confirmation before proceeding with check-in.
At KLM Check-in, you have the option of reserving a seat of your choice or booking an extra service for your flight.
After online check-in, you will receive your KLM boarding pass, which you can save or print. You will need this boarding pass at the airport. If you lose your boarding pass, you can print a new boarding pass at the check-in counter or at the self-service machine.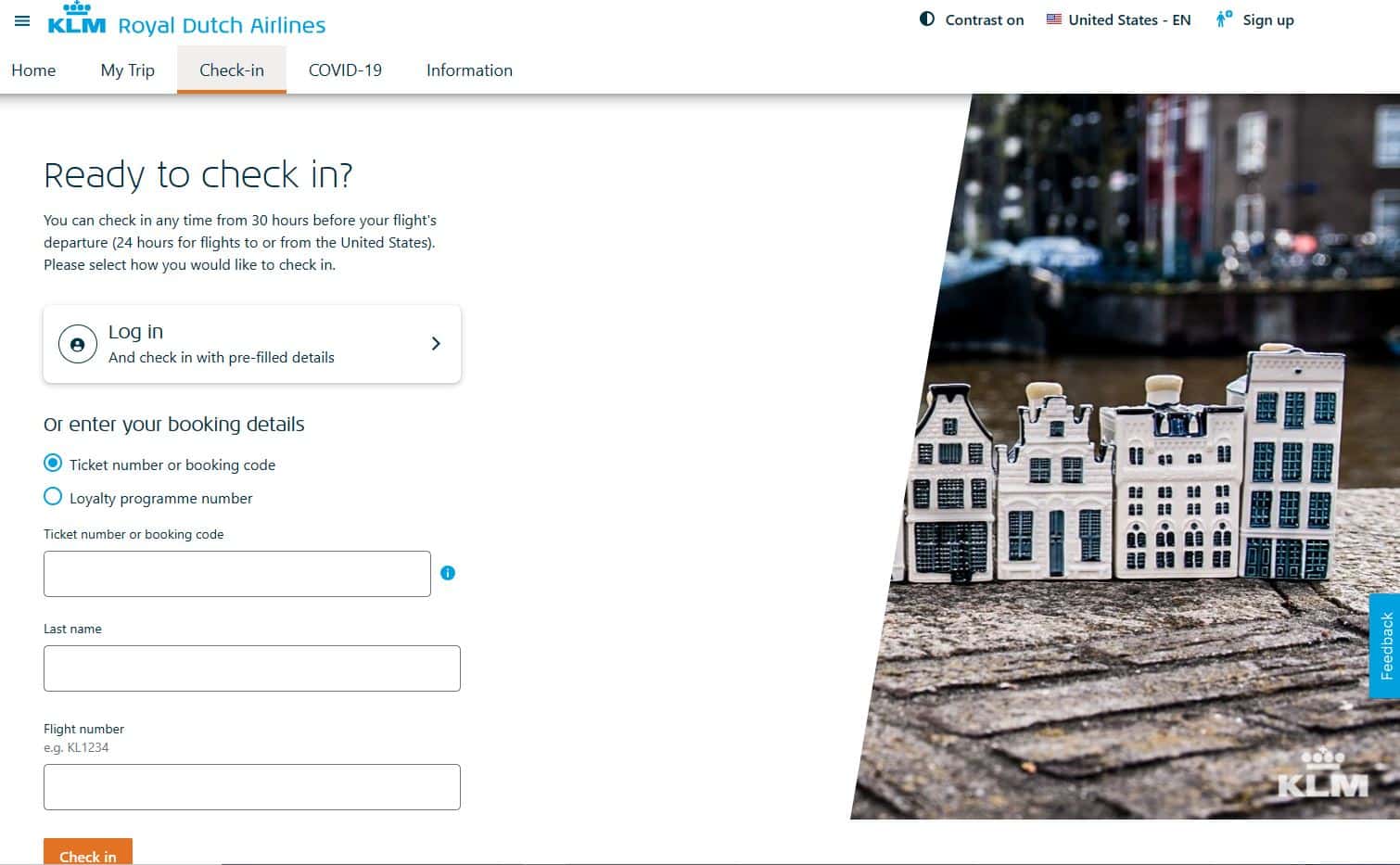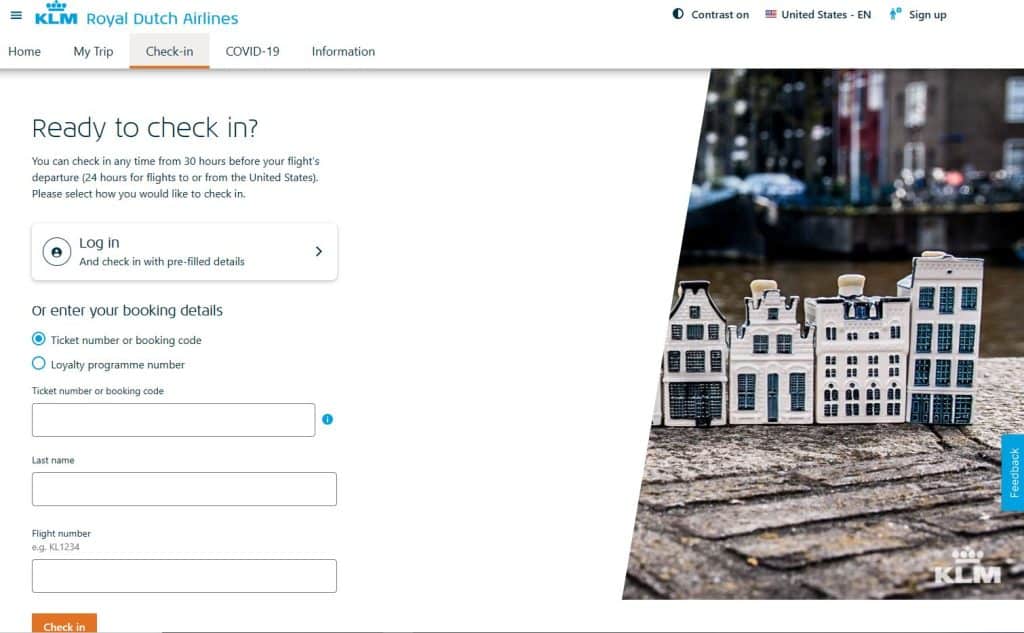 Information about KLM online check-in
The check is possible from 30 hours before departure.
For flights to and from the United States, online check-in is only possible 24 hours before departure.
If you booked your flight through KLM, but it is not operated by KLM or Air France , online check-in may not be available.
If you are flying without checked baggage and are carrying your boarding pass, you can proceed directly to the security checkpoint upon arrival at the airport.
Online check-in at KLM can be cancelled up to 1 hour before departure . However, this will only cancel the check-in, but not your entire booking.
KLM's baggage policy
The exact baggage allowance varies depending on the destination and ticket. However, you always have the option of booking additional pieces of luggage for an additional fee.
KLM baggage allowance for checked baggage
Economy Class
Light-Ticket: No checked baggage is included in the ticket.

Standard or Flex ticket: 1 piece of checked baggage max. 23 kg and 158 cm tall (length + width + height).
Premium Comfort Class
Premium Comfort Class tickets allow 2 pieces of checked baggage weighing a maximum of 23 kg and a maximum size of 158 cm (length + width + height).
Business Class
For Business Class tickets, 2 pieces of checked baggage weighing a maximum of3.2 kg and a maximum size of 158 cm are allowed (length + width + height).
KLM carry-on baggage
Number & Weight
Economy Class – 1 carry-on baggage up to 12 kg
Premium Comfort Class – 2 carry-on bags up to a total of 18 kg
Business Class – 2 carry-on bags up to a total of 18 kg
Size
For all classes there is a max. Hand luggage size of
55 x 35 x 25 cm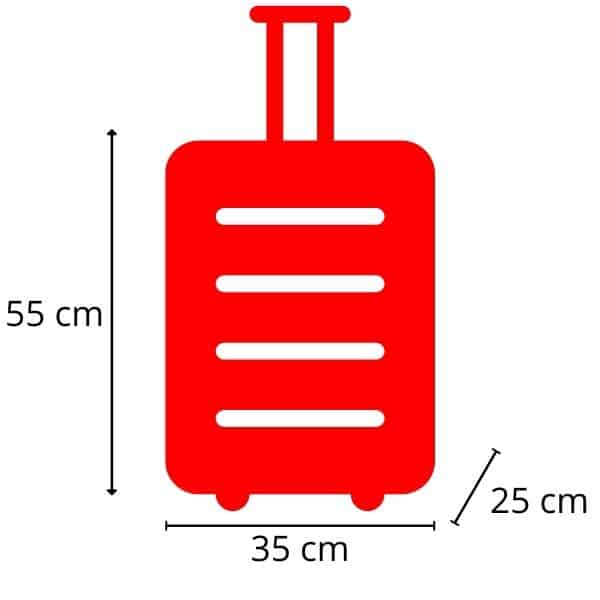 What is prohibited in carry-on baggage?
There are some items that are absolutely prohibited in carry-on baggage due to possible danger to passengers and crew.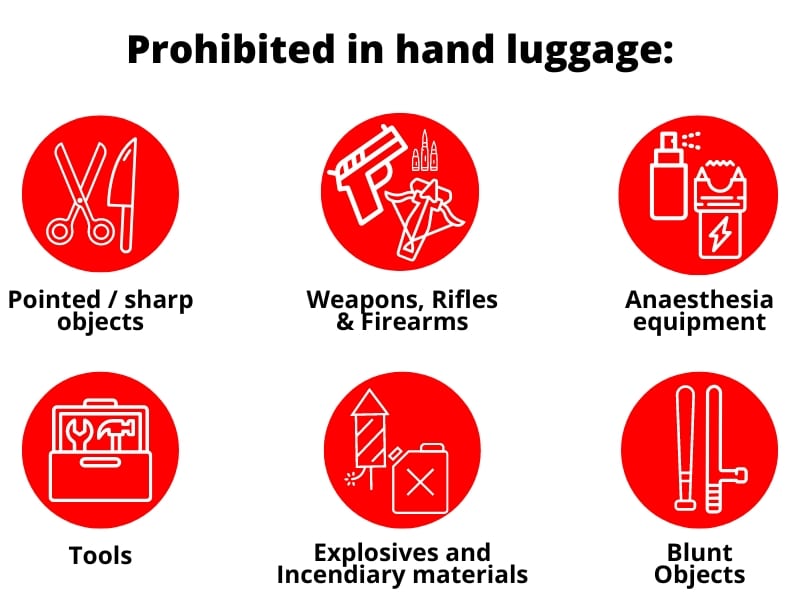 Weapons, Rifles & Firearms
Pistols, revolvers, rifles, shotguns and other firearms of all kinds
Parts of firearms
Toy weapons, as well as replicas and imitations of real weapons
Signal pistols and starting pistols
Pointed or sharp objects
Razor
Needles
Axes, hatchets and cleavers
Knives and scissors
Utility knife
Swords and sabres
Anesthetic devices
Taser, stun guns, stun sticks
Apparatus for stunning and killing livestock
Chemicals, gases or sprays that cause incapacitation
Tools
Crowbar
Drills
Saw
Bolt guns
Blunt objects
Baseball and softball bats
Clubs and batons like bats
Martial arts equipment
Explosives and incendiary substances
Ammunition detonators
Detonators and detonators
Replicas or imitations of explosive devices
Dynamite, gunpowder and plastic explosives
General information about KLM
KLM (Koninklijke Luchtvaart Maatschappij) is the national airline of the Netherlands and is headquartered in Amsterdam. Founded in 1919, KLM is one of the oldest airlines in the world and an important airline in Europe and Asia.
KLM serves a network of more than 160 destinations worldwide, including Europe, North and South America, Africa, Asia and Oceania. KLM's fleet consists of over 100 aircraft, mainly Boeing and Airbus, including the latest models such as the Boeing 787 Dreamliner and the Airbus A350.
The airline offers its passengers different classes, including Economy, Comfort and Business Class, as well as a wide range of entertainment and culinary delights on board.
KLM is part of the SkyTeam global airline alliance, which means KLM passengers have access to a network of more than 1,000 destinations worldwide and joint rewards programs with other SkyTeam members such as Delta Air Lines and Air France.
In summary, KLM is a renowned airline and, together with Air France, forms the umbrella company Air France-KLM.