In this post, you will learn how to check in your flight online with Corendon.
Step-by-step online check-in
Open the Corendon online check-in via the following link:
https://www.corendonairlines.com/book-and-manage/online-check-in
Start the online check-in by entering your reservation number

(the PNR is 6-8 digit code) and your

last name

.

At check-in, you will be required to provide your passport or ID card number, among other things. Depending on your destination, you may also need to submit entry or Corona documents .
Once you have provided all the information, you can also choose a seat or book a specific service (for a fee) if you wish.
You can now complete your online check-in. You will then receive your boarding pass, which you can save or print out directly.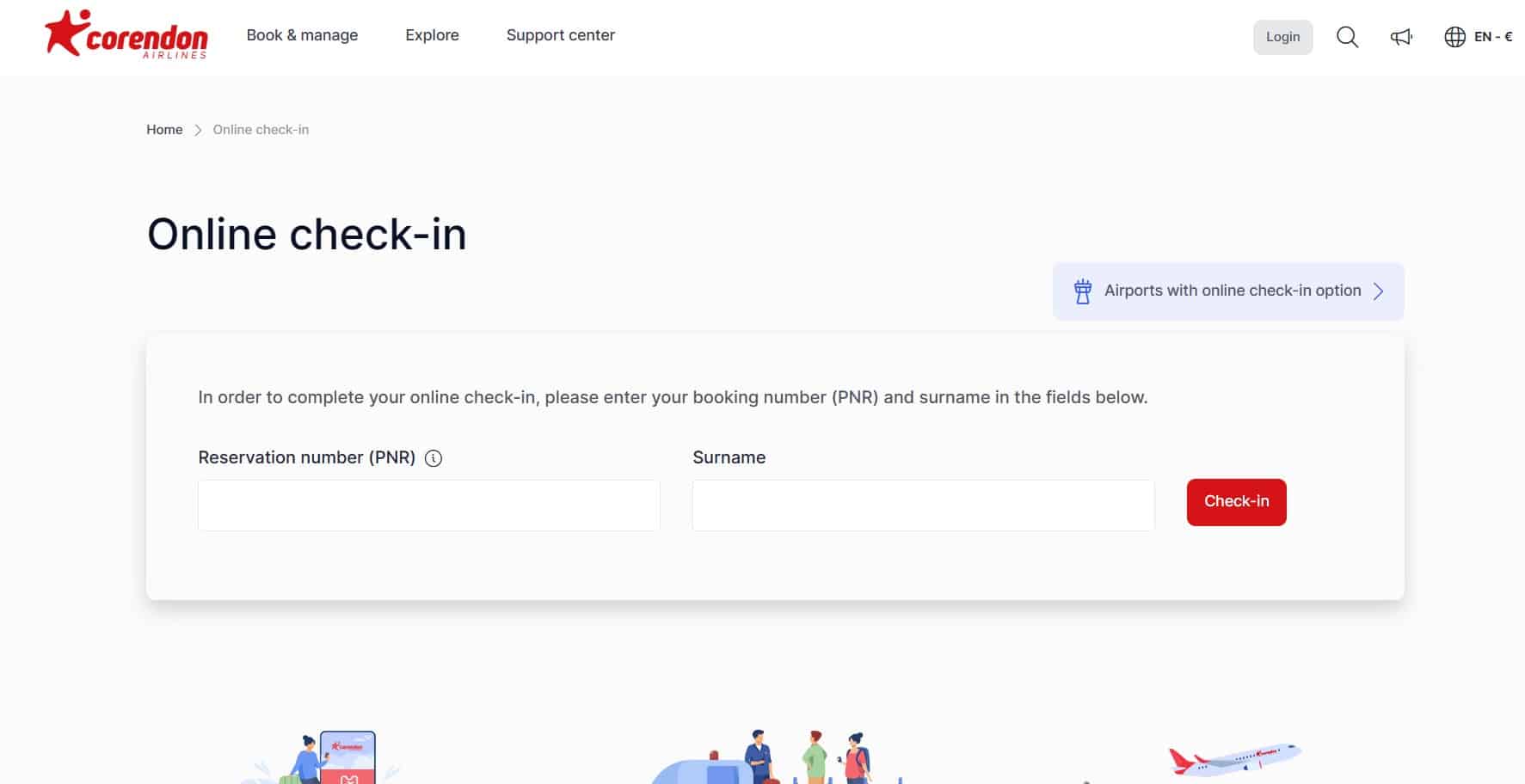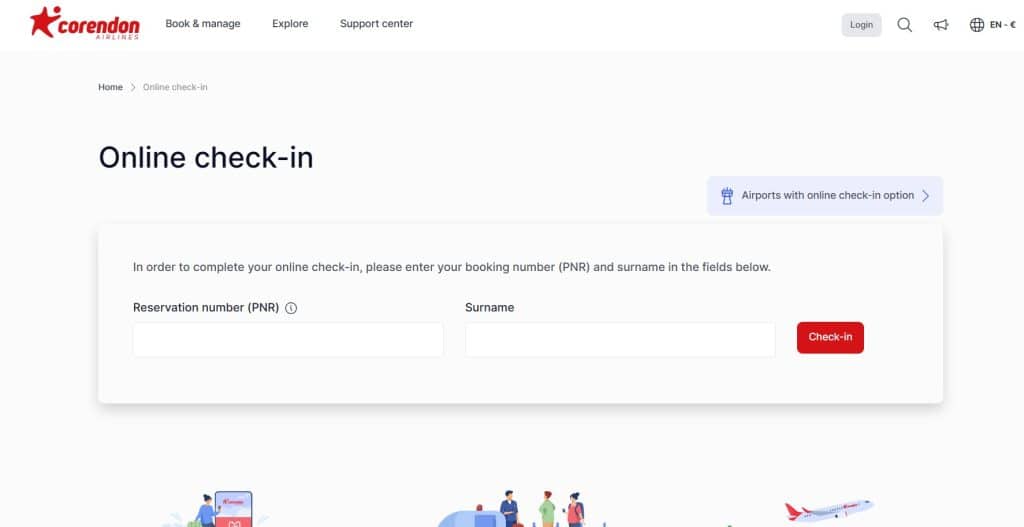 Important information about Corendon online check-in
When is online check-in possible?
Depending on the flight, online check-in is possible from 7 days to 5 hours before departure . Check-in can be done via your smartphone, PC or tablet.
What happens to checked baggage?
If you are travelling with carry-on baggage only, you can use the boarding pass to go directly to the security checkpoints . However, if you have checked baggage, you must either check in your baggage at a counter or use a baggage kiosk, which is available at many airports.
Baggage regulations at Corendon
Hand luggage at Corendon
Number & Weight
Hand luggage is generally limited to one piece of carry-on baggage and one personal carry-on baggage. Hand luggage may not be carried at max. Weigh 8 kg.
Size
For all classes there is a max. Carry-on baggage size of
55 x 40 x 24 cm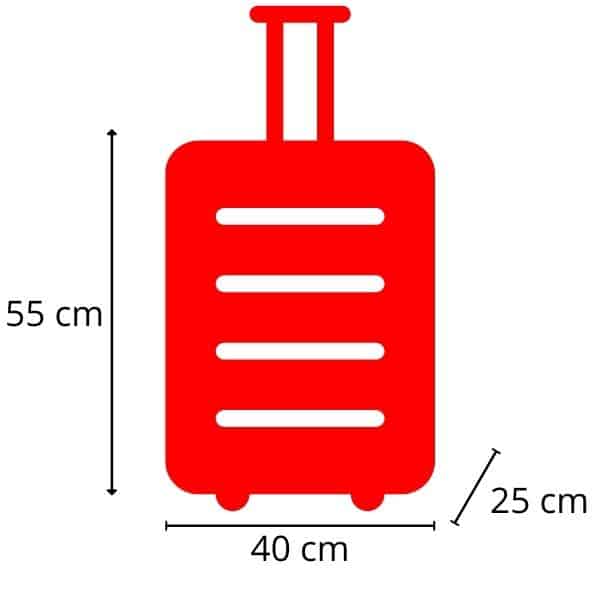 Parents of babies under two years of age are allowed to take a diaper bag with diapers and baby food, which is sufficient for the duration of the flight.
What are you not allowed to carry in your hand luggage?
General baggage regulations at Corendon
You can find out more about Corendon's general baggage policy on this page.
What is prohibited in carry-on baggage?
There are some items that are absolutely prohibited in carry-on baggage due to possible danger to passengers and crew.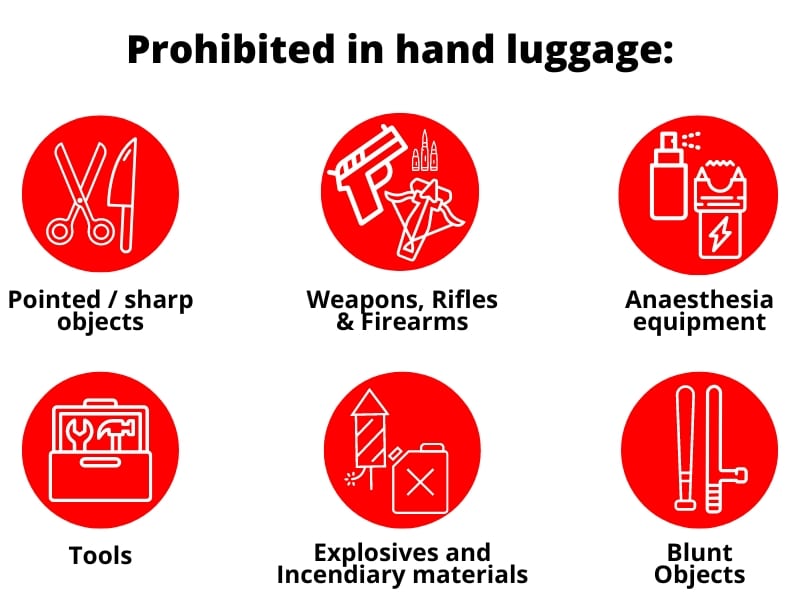 Weapons, Rifles & Firearms
Pistols, revolvers, rifles, shotguns and other firearms of all kinds
Parts of firearms
Toy weapons, as well as replicas and imitations of real weapons
Signal pistols and starting pistols
Pointed or sharp objects
Razor
Needles
Axes, hatchets and cleavers
Knives and scissors
Utility knife
Swords and sabres
Anesthetic devices
Taser, stun guns, stun sticks
Apparatus for stunning and killing livestock
Chemicals, gases or sprays that cause incapacitation
Tools
Crowbar
Drills
Saw
Bolt guns
Blunt objects
Baseball and softball bats
Clubs and batons like bats
Martial arts equipment
Explosives and incendiary substances
Ammunition detonators
Detonators and detonators
Replicas or imitations of explosive devices
Dynamite, gunpowder and plastic explosives
About Corendon Airline
Corendon is an airline based in Antalya, Turkey.
Corendon is a sister company of the Dutch Corendon Dutch Airline and the Maltese Corendon Airlines Europe.
More information about the airline: https://en.wikipedia.org/wiki/Corendon_Airlines