Would you like to save as much time as possible when boarding your Costa cruise ship? No problem!
In this article, you will learn how to carry out your online check-in easily and conveniently.
Costa Online Check In – Online Ship Manifest
For the online check-in or the online completion of the ship manifest of the Costa, you only have to carry out a few steps:
Open the MyCosta customer area via the following link: https://www.mycosta.com/de/login.html
Log in with your first name, last name and booking number. Your booking number can be found on your Costa travel documents. The booking number is a code consisting of 8-9 numbers, which is listed on all travel documents.
Once you have successfully logged in, go to the "Ship Manifest" item via the menu.
Provide all the requested information about yourself. These include first name, last name, birthday, ID number, e-mail address, emergency contact…
Once you have completed the ship's manifest and checked the details, you can complete the check-in or make additional bookings. You have the option of booking excursions, drink packages or wellness treatments, among others.
Upon completion of the check-in, you will receive your embarkation form. You can easily download it or print it out directly.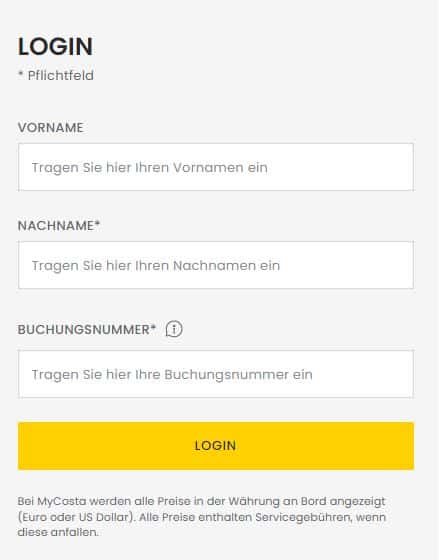 Important information about Costa online check-in
You can fill out the Costa ship manifest online from the day of booking .
The ship's manifest must be completed online at least 30 days before departure .
You can also fill out the ship manifest for all your fellow passengers via the MyCosta customer area.
The indication of an emergency contact is not mandatory, but highly recommended (especially for solo travel).
Travel documents for boarding with Costa
For boarding on the day of departure, you must carry the following travel documents:
Your travel documents (passport, identity card).
The embarkation form provided to you after online check-in.
Your cruise ticket of the Costa, which you will receive at the time of booking.
The baggage tag with your name and cabin number. This baggage tag must be attached to the suitcase so that the staff can bring your luggage to the cabin.
If you have booked a flight through Costa, you will also need to show your flight ticket .
The summary of all services included in the travel price, which was sent to you in the travel documents.
Note that it is your responsibility to carry and have the necessary travel documents ready, as well as to meet the requirements of the customs and immigration authorities. If you have forgotten your travel documents or packed invalid documents, you may be denied entry.
Are you starting your journey by plane?
Especially for air travel, an online check-in makes sense. You save yourself a lot of valuable time and nerves. If you would like an overview of the online check-in of the different airlines, please visit https://flug-check-in.de