Are you flying abroad with Croatia Airlines and want to check in your flight online? Nothing easier to read this. With us you will learn step by step how to do it and what you need to consider.
Perform check-in
Go to the following Croatia Airlines check-in page: Check-in-Air-Croatia
Now enter your last name if the ticket has been booked to you.
In addition, you will need to enter another means of identification. You can find the booking number (which can be found in your travel documents when you confirm your booking), the ticket number (usually also included in the travel documents) or your frequent flyer number (special number if you are part of a frequent flyer program). Identification or check-in via the frequent flyer number is only possible if you have provided it when booking the flight.
You will then be taken to the Croatia Airlines check-in area and can check in your flight and, if possible, reserve a seat.
Once all the data has been entered, you can now print out the boarding pass or register via . Send an e-mail and show it at the airport, e.g. on your smartphone.


Important for Croatia Airlines online check-in
Check-in times
You can check in your Croatia Airlines flight online 36 hours before your scheduled departure. As a rule, online check-in is possible up to one hour before departure.
Luggage at online check-in
Once you have completed the online check-in, you will receive a boarding pass. But what do you do with your luggage? You can drop off your checked baggage at the airport either at a Croatia Airlines check-in counter or at a baggage kiosk . There you will have to show your boarding pass and you will then receive the baggage confirmation after you have checked in your suitcases.
Not every flight is possible or has a different check-in route
Unfortunately, Croatia Airlines web check-in is not possible to a limited extent or not at all for all flight connections.
1. Flight check-in via the "Advanced Search"
If your flight departs from Dubrovnik, Split, Zadar, Pula or Rijeka, you must check-in via the "advanced search" at check-in. The "advanced search" can be found in a separate tab.
As with normal check-in, go to the Croatia Airlines check-in page: Check-in-Air-Croatia
As shown in the figure, switch the tab to the "Advanced Search".
In addition to your last name, ticket or booking number, enter the departure airport and booking date, as well as the flight number (usually found in your booking documents).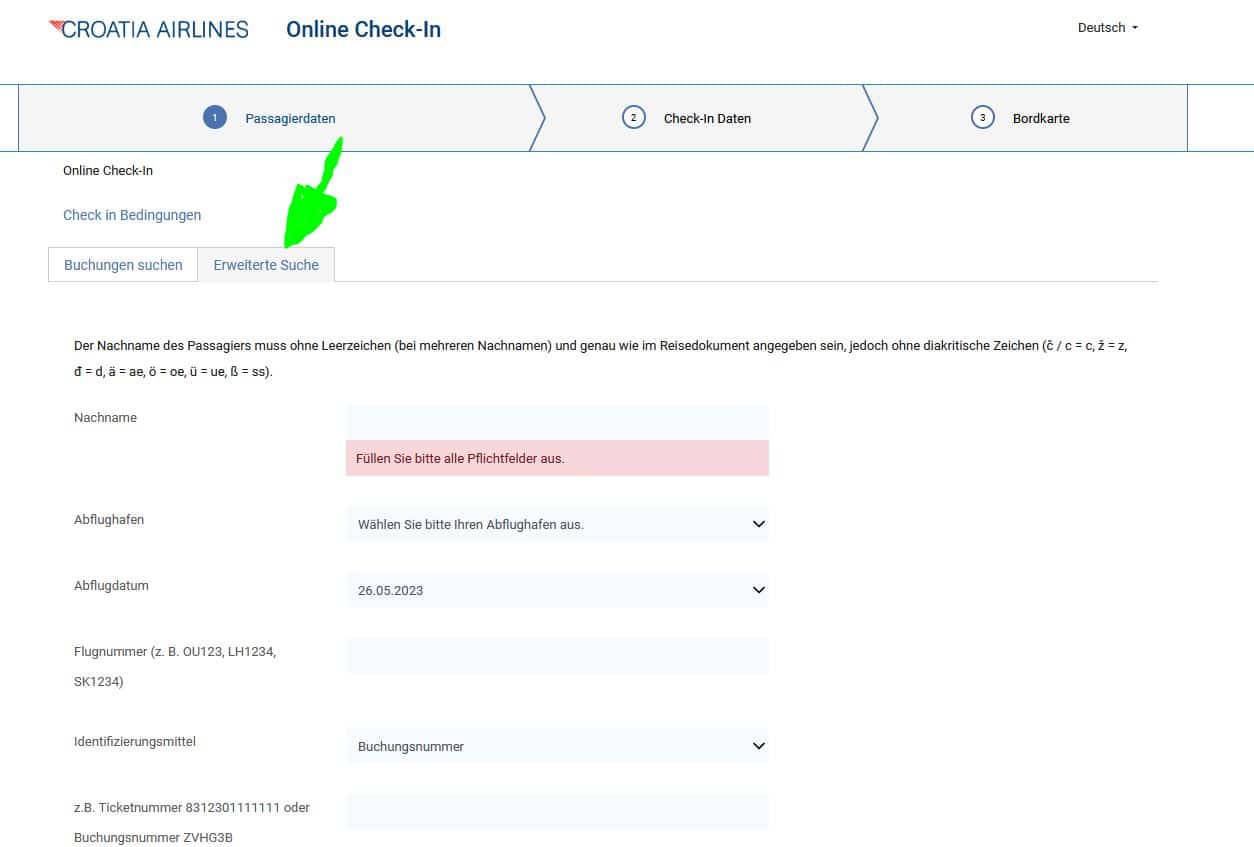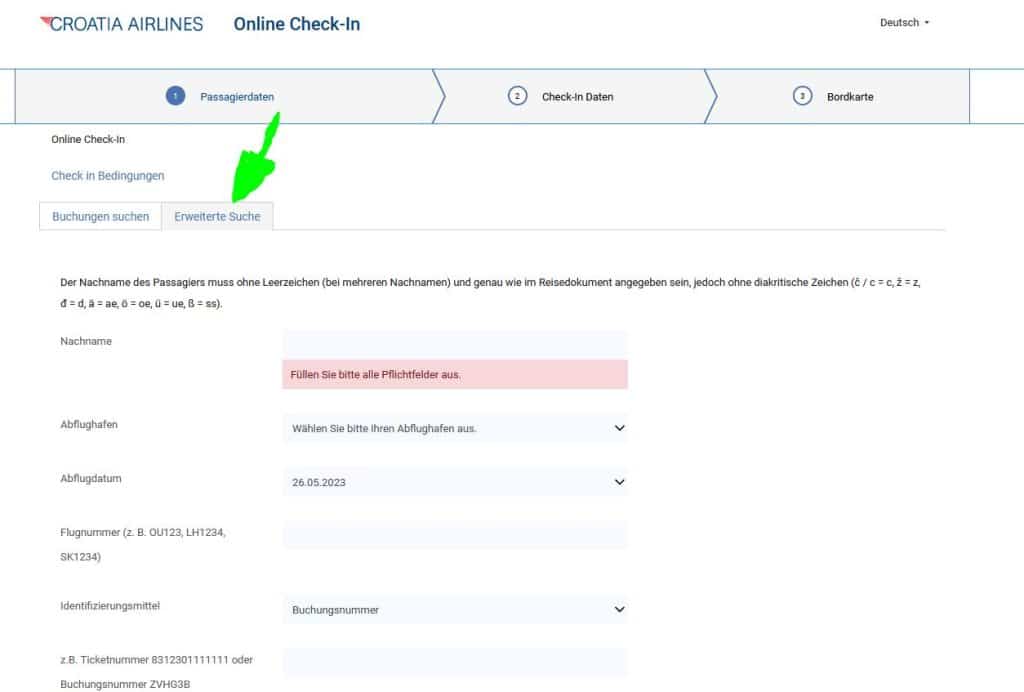 2.Flight check-in via another check-in page
If your flight departs from Sarajevo or Skopje , you must check-in via this link.
If your flight departs from Mostar , you will need to check in via this link.
3. Airports for which online check-in is not possible
Unfortunately, there are flight connections for which online check-in is not possible. A list of these flights can be found via the following link.
About Croatia Airlines
Croatia Airlines is the national airline of the Republic of Croatia. The company was founded in 1989 and is headquartered in Zagreb. It is an important connection between Croatia and other European cities, offering flights to various domestic and international destinations.
Fleet size and route network:
Croatia Airlines operates a modern fleet of aircraft consisting of Airbus and Dash models. The fleet includes both medium-sized and smaller aircraft to meet the different needs of passengers. The airline serves various airports across Europe, including many popular destinations on the Adriatic coast such as Dubrovnik, Split, and Zadar. In addition, there are also connections to other European cities such as London, Paris, Frankfurt and Rome.
Frequent:
Croatia Airlines offers a frequent flyer program called "Miles & More" that allows passengers to earn points and benefit from various benefits. For example, by earning miles, passengers can receive free flights, upgrades or other rewards. The program is ideal for business travelers or regular passengers who want to take advantage of additional perks.