AIDA does not yet offer complete online check-in.
But in this article you will learn how to fill out your ship manifest online and how the check-in process works on site.
Fill out the AIDA Ship Manifesto online
The ship's manifest is an important document in which all your personal data is recorded. Due to the completed ship manifest, the on-site check-in of guests can be carried out more easily and quickly.
When traveling on an AIDA cruise ship, the ship's manifest should be filled out online several weeks before departure .
You can fill out your ship manifest as follows:
Open the myAIDA customer area via the following link:
https://aida.en/login/myaida
Log in with your first name, last name and booking number. Your personal booking number can be found on the travel documents provided by AIDA.
Now you get an overview of your most important travel information. This includes the exact travel dates, the people travelling with you and in how many days the journey begins.
Select the "Manifest & Travel Participants" tab from the menu.
Now you need to enter the following data for each person traveling with you:

Personal information:
Name, address, country, nationality, birthday & place of birth
Contact Information:
Telephone number, mobile number (often voluntary) & e-mail address (often voluntary)
Passport information:
Identity card or passport, name and surname, document number, date of issue and validity of the document, issuing authority

Have you filled in all the data? Perfect.
We recommend that you check the information you have entered again for correctness and then send it off.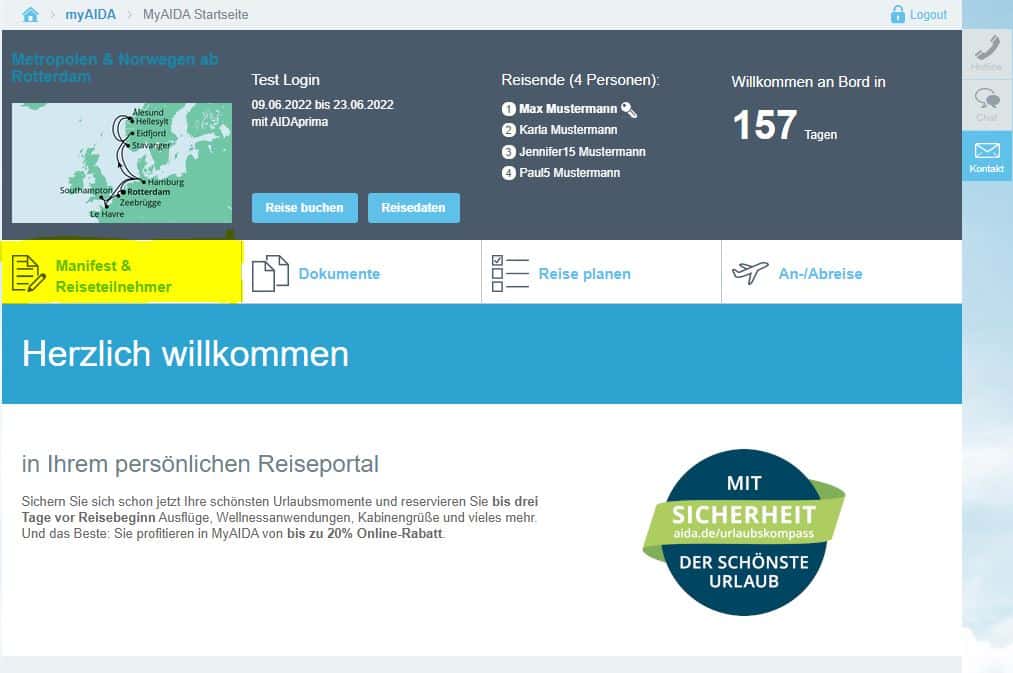 Passport or identity card?
If you are only travelling within the EU, it is sufficient to present an identity card as a German, Austrian or Swiss citizen. If you also call at ports outside the EU during the trip, you must present a passport .
Important when traveling with children: All children (from birth) need their own travel document. The entry in the passport of the parents is not valid for most border crossings.
When can you check in?
Exactly when you can check in depends on the destination and your arrival. As a rule, however, check-in can be done from 14:00 .
In order to shorten waiting times, certain check-in times are usually assigned. Try to stick to this period to make the check-in as pleasant as possible for you and the other guests.
However, an earlier or later check-in than you have been given (for example, if you and your fellow travelers have received different check-in times) is generally not a problem.
The exact times for your check-in can be found in the travel documents provided. For guests with a package booking, the check-in time is based on the flight times.
AIDA on-site check-in

1. Drop off your suitcase
Once you have arrived at the terminal of the cruise ship, the first step is to drop off your suitcase. The luggage drop-off station is usually clearly visible or well signposted.
In your travel documents, you should find a band with your name and cabin number . This must be attached directly to the case so that AIDA employees can assign the case correctly.
Please note: It may take longer before you are allowed to enter your cabin or have access to your suitcase. Therefore, you should stow everything you need during the first hours of your stay in your hand luggage.
2. Fill out the health questionnaire & wait
Once all the suitcases have been dropped, you can proceed to the waiting area of the check-in . Vending machines for snacks and drinks are often available in the waiting area.
While you wait for a free check-in counter on your AIDA ship, the health questionnaire is collected, which you have already filled out at best. If this is not the case, you will usually also have the opportunity to fill out the questionnaire in the waiting area.
Please note: There are two different queues: for normal check-in and the "fast lane" for priority check-in (only for suite guests, yellow, green and gold club members, guests with disabilities and families with children).
3. Check-in
When you arrive at the counter, you will need to show your travel documents and identity documents (identity card or passport – depending on which document you have indicated in the ship's manifest).
If you have not yet entered a payment method for the on-board bill in the myAIDA customer area before departure, this will now be done. In most cases, a photo of you is also taken and stored in the system.
You will receive your boarding pass and any drinks card you may have booked when you enter the security checkpoint.
Please note: You will need your boarding pass again before boarding the ship. So you should keep them quickly accessible.
4. Security Controls
As at the airport, you will have to go through security before boarding the ship. Put all metallic objects, the contents of your bags, your carry-on luggage and your jacket in a box for the X-ray machine. You can then go through the metal detector.
If everything went well, you can now make your way to the ship. On the way you usually have the opportunity to take a souvenir photo , which you can buy later. Before boarding the ship, you must show your boarding pass again and disinfect your hands due to the Corona safety measures.
Corona Measures & Regulations for AIDA Cruises
Have you planned a cruise with an AIDA ship? Then you should inform yourself beforehand about the applicable hygiene measures and regulations of the AIDA .
Are you travelling by plane and would like to know how online check-in works with your airline?
We have created online check-in instructions for a wide variety of airlines. If you would like to find out more, please visit Flight Check In.