Etihad Airways online check-in is a quick, easy and flexible way to check in your flight.
In this article, you will learn how to check-in at Etihad online step-by-step and what you should consider when checking in and your flight.
Etihad Airways online check-in – step by step
Open the Etihad online check-in via the following link:
https://www.etihad.com/en/manage/check-in
You have the option to access the check-in area using the booking number, ticket number or Etihad Guest number . In addition, enter your last name to check in.
Once you have successfully logged in, you can start with the actual online check-in. Among other things, you will need to provide information such as your passport number or passport number. provide your identity card number , and if required , submit entry documents .
You can also reserve a seat for your Etihad flight during online check-in.
After successful online check-in, you will receive your boarding pass. You can save, print or load them into your Etihad Airways app.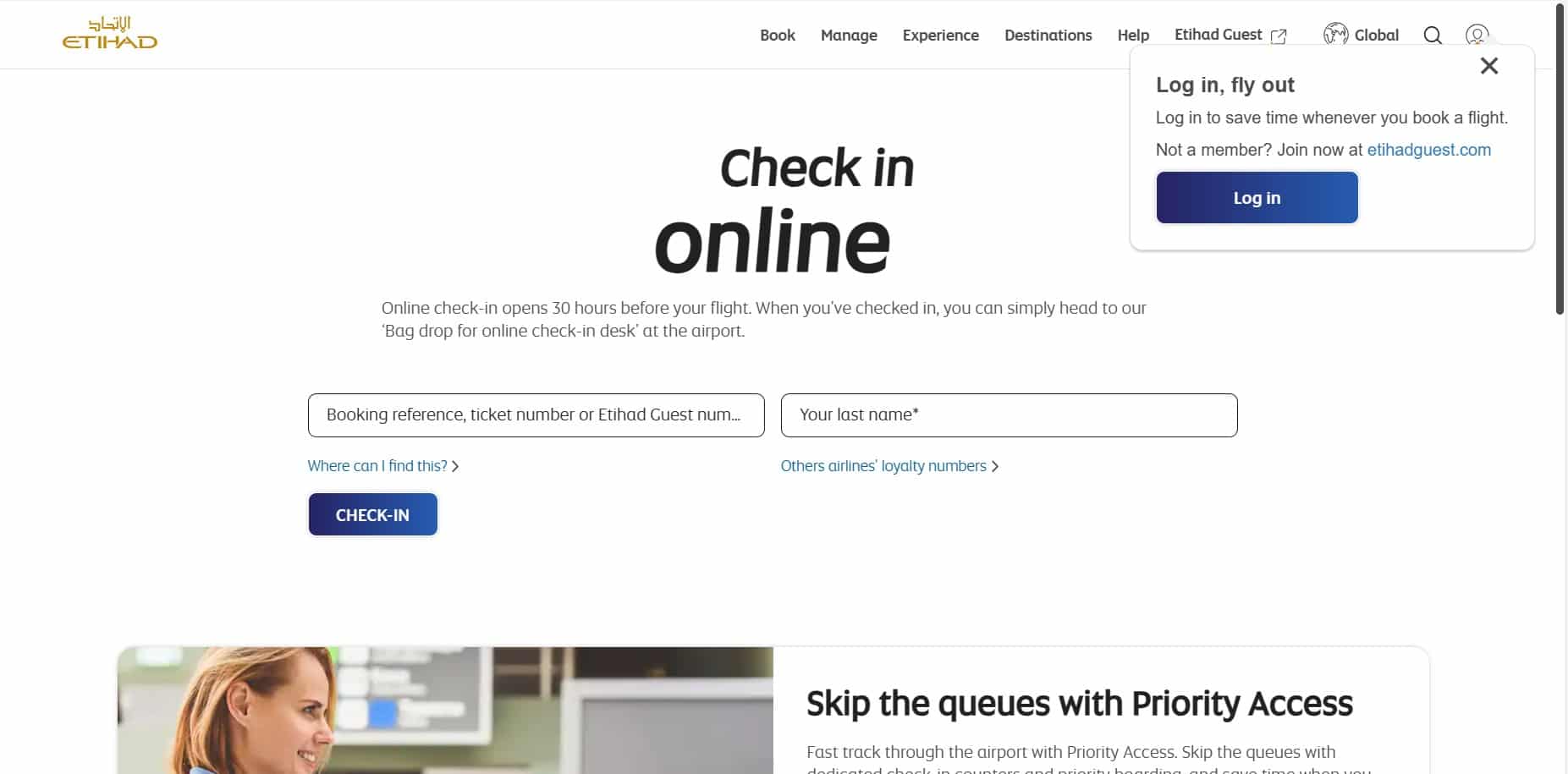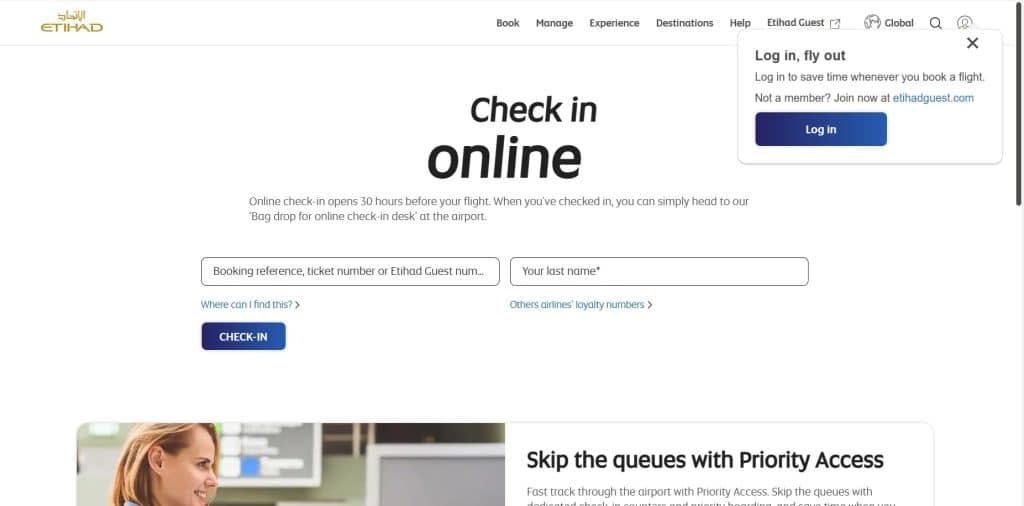 City Check-in Etihad Airways
Etihad City Check-in allows you to travel to the airport without luggage. However, you only have this option when traveling from Abu Dhabi.
24 hours before your flight, you can check in at one of the two City Check-in locations in Abu Dhabi, check in your baggage and collect your boarding pass. This allows you to travel comfortably to the airport the next day without your luggage and does not have to queue in long queues.
Etihad Airways – Seat Selection
Economy Standard
If you are travelling with the Economy Deal, Saver or Classic fare, you can reserve an Economy Standard seat at any time for a fee.
You can reserve your seat during the booking process, but also after booking during check-in. Seat reservations can also be made through the Etihad Global Contact Centre after booking.
Economy Space
If you want more legroom on your Etihad flight, you can reserve an Economy Space seat. However, these seats are only available on flights with Etihad, not on flights with Etihad's partner airlines.
You can reserve an Economy Space seat for a fee after booking.
To be seated in an emergency exit row, you must meet Etihad Airways safety requirements.
Economy Extra
With Economy Extra Class, you can enjoy almost three times as much space and comfort. You can keep one, two or three adjacent seats free, giving you more space. You can purchase an Economy Extra seat from 72 hours to approximately 4 hours before departure under "Manage my booking".
Hand luggage with Etihad Aiways
Number & Weight
If you book a carry-on baggage fare for your flight, you are allowed to take 1 carry-on baggage of up to 7 kg. In addition, a personal item (handbag, laptop bag) is also allowed.
Size
For all classes there is a max. Hand luggage size of
56 x 36 x 23 cm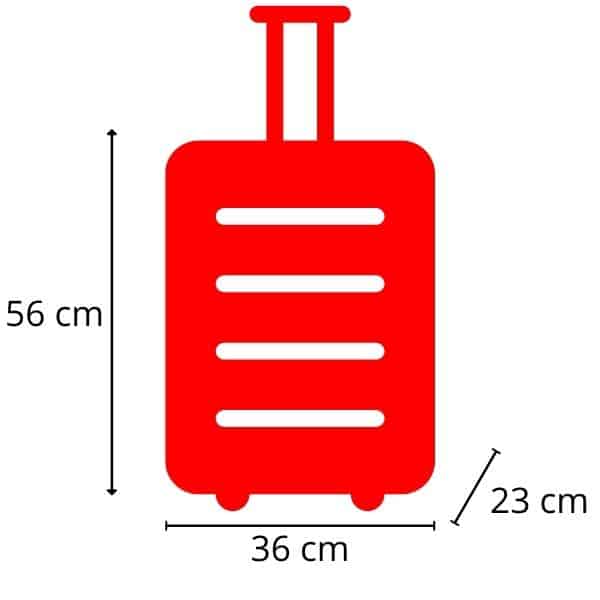 What is prohibited in carry-on baggage?
There are some items that are absolutely prohibited in carry-on baggage due to possible danger to passengers and crew.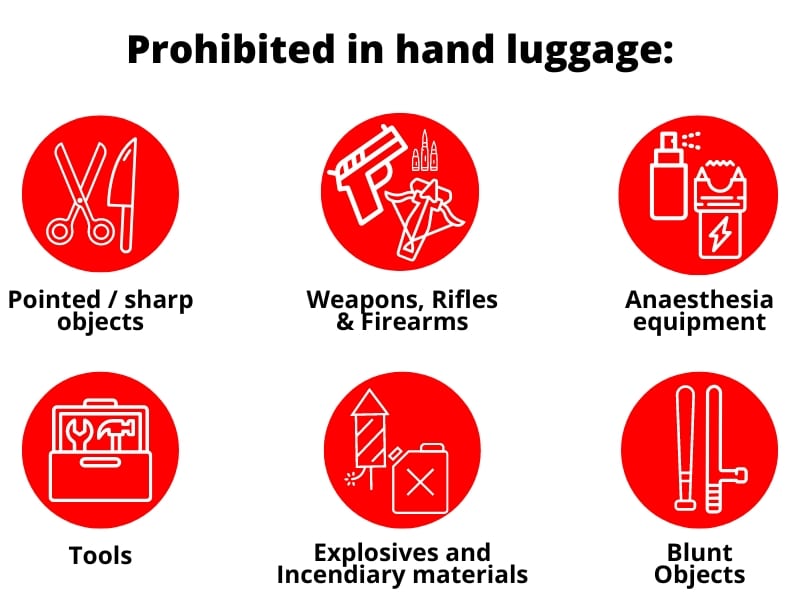 Weapons, Rifles & Firearms
Pistols, revolvers, rifles, shotguns and other firearms of all kinds
Parts of firearms
Toy weapons, as well as replicas and imitations of real weapons
Signal pistols and starting pistols
Pointed or sharp objects
Razor
Needles
Axes, hatchets and cleavers
Knives and scissors
Utility knife
Swords and sabres
Anesthetic devices
Taser, stun guns, stun sticks
Apparatus for stunning and killing livestock
Chemicals, gases or sprays that cause incapacitation
Tools
Crowbar
Drills
Saw
Bolt guns
Blunt objects
Baseball and softball bats
Clubs and batons like bats
Martial arts equipment
Explosives and incendiary substances
Ammunition detonators
Detonators and detonators
Replicas or imitations of explosive devices
Dynamite, gunpowder and plastic explosives
Etihad Baggage Policy
As a rule, you also have a baggage allowance on your Etihad flights. You can find out more about this on this page.
Information about Etihad Airways
Etihad Airways was founded in 2003 and is based in Abu Dhabi. It is the national airline of the United Arab Emirates. The airline's base is located at Abu Dhabi Airport. Currently, it is only a 4-star airline, as in the 2019 Skytrax Awards, Etihad Airways was stripped of one star.
From its home base, Etihad Airways flies to destinations in Europe, Africa, Australia and North and South America. In German-speaking countries, these include the airports in Düsseldorf, Munich, Frankfurt am Main, Geneva and Zurich.
You can find out more about Etihad Airways on Wikipedia…
Find more airlines and check-in options on https://flug-check-in.de