If you are travelling by air from Dusseldorf Airport (DUS), the journey begins with the check-in of your flight. Basically, you have three options to check in for your flight from Dusseldorf Airport.
Step-by-step instructions
Dusseldorf Airport counter check-in
Düsseldorf Airport has three gates, which can be reached via the central and elongated entrance hall. In the entrance hall you will also find the check-in counters of the various airlines.
Now find the check-in counter of your airline. As a rule, there is a logo of the airlines above the check-in counters. Each check-in counter usually has its own number. Alternatively, you can also use this number to find your airline check-in counter, as the numbers of the possible check-in counters are written on the airport displays next to the flights.
Once you have found the right counter, you can check in your flight, reserve your seat and check in your checked baggage.
To do this, you must present your flight ticket and passport or identity card at the counter.
You will now receive a receipt for your checked baggage as well as your boarding pass with gate and seat number.
Now you are ready to go and can go through the security check to your gate .

Dusseldorf Airport self-service check-in kiosks
Dusseldorf Airport also offers self-service check-in kiosks for certain airlines. Through a check-in machine, you can do the check-in yourself and often with less waiting time than at the counter. Again, the process is simple.
Find your airline's self-service check-in kiosk at Dusseldorf Airport from which your flight departs.
Start by scanning your passport or ID card at the machine to confirm your identity and allow the system to access your flight details.
Enter the information about your flight, such as the flight number, travel date, and destination. You may also need to enter the booking confirmation number or the number of your e-ticket.
As a rule, you can now choose your seat. If not, you will be assigned a seat.
If you take baggage with you, you can also indicate this at a baggage counter and receive a baggage receipt from the check-in machine.
Afterward, print out your boarding pass to go through security and board the plane.
Dusseldorf Airport Online Check-in
Usually, most airlines also allow online check-in. This gives you the convenient opportunity to carry out the check-in process yourself from home or on the go and reserve your seat . When you arrive at the airport, all you have to do is drop off your checked baggage at either the check-in counter or the baggage drop-off counter.
Use our check-in overview to find the airline you will be flying with.
Go to your airline's website via the link provided.
Enter your booking details (name, ticket number, tour operator reference number…). You will find your booking details in your booking documents.
Most airlines now allow you to choose your seat.
Print your boarding pass or save the document on your smartphone so you can show it at the airport.
What is important when checking in at Dusseldorf Airport
The early bird flies safely with…
It is advisable to arrive at the airport much too early rather than a little too late.
Allow plenty of time, as traffic jams can often occur on the way to the airport and crowded check-in counters are not uncommon.
Please note that you will still need to go through security after check-in and may need time to buy something to eat or drink before your flight.
As a rule, it is recommended to arrive at the airport at least 2 hours before departure.
Proper Counters & Gates
Sounds very banal, but it happens very often. You arrive stressed at the airport and walk straight into the departure building. But where do you have to go anyway? You hurriedly walk back and forth, looking for the right check-in counter or gate.
The Dusseldorf (DUS) is not exactly small and therefore the distances are often long. If you are at the wrong end of the airport, it can get tight. Therefore, always check in advance which gate you are flying from.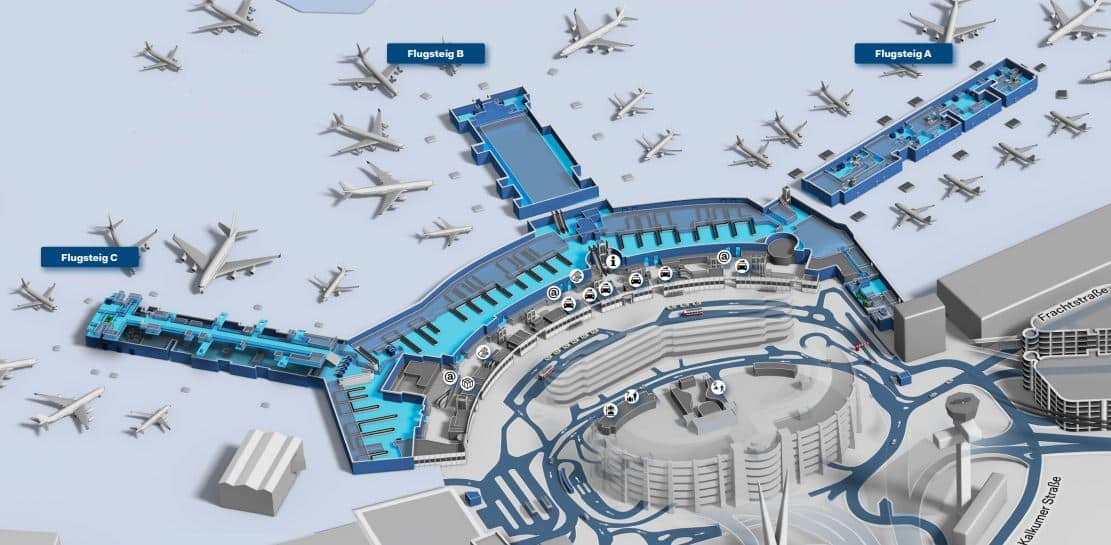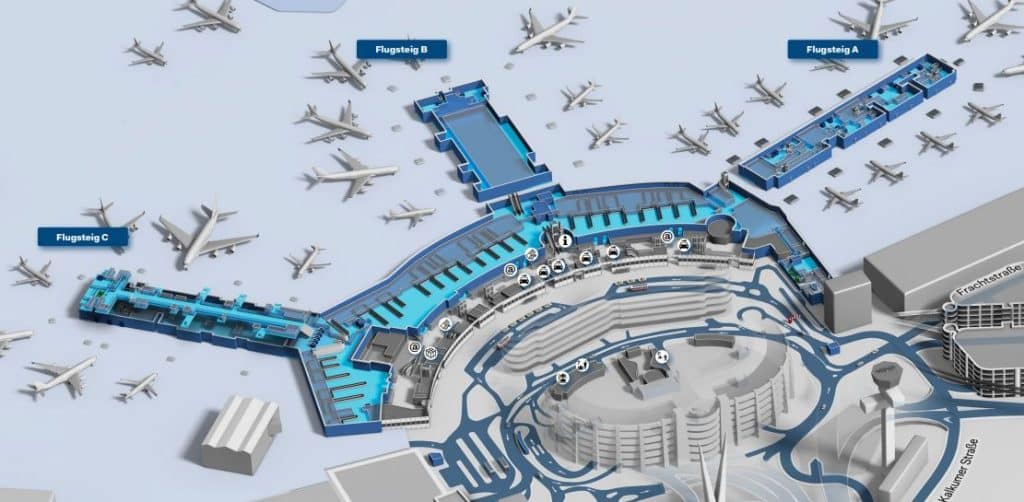 You can get an overview of all areas of Düsseldorf Airport via the following link: https://www.dus.com/de-de/informieren/lageplan
Check gate number
Regularly check the display boards at the airport to check the gate number for your flight. There is a possibility that this will change and you will have to go to another gate.
For more information about the evening before check-in, please visit:
https://flug-check-in.de/vorabend-checkin-wie-funktionierts/
Airport of Dusseldorf Airport
The Dusseldorf Airport (DUS) flight schedule contains a list of all available flight routes departing or arriving from here.
Parking at Dusseldorf Airport
At Dusseldorf Airport, you have several options for parking to choose from. It is advisable to compare prices, as airport parking is often quite expensive . Depending on the type of parking space, different rates apply. By using "park and fly" providers, you can often find low-cost parking near your desired airport.