Take advantage of Luxair's online check-in and save time at the airport. You can find out exactly how the Luxair online check-in process works on this page.
Step by step – Luxair online check-in
Go to Luxair's website to start online check-in.
https://www.luxair.lu/de/checkin
Now enter your name in the appropriate field . Please make sure that this is written as on the booking confirmation or in the e-ticket.
You will also need your booking reference or e-ticket number number , which you received with the travel documents when booking the flight . Alternatively, you can also use your Miles & More number if you have booked the flight with your Miles & More.
Once you have

successfully logged into the check-in area, you will have the

option to select your seat and book additional services depending on your flight. Tip: Compare the flight data displayed with the flight information on your records. There may have been changes in time since the booking that you may not have noticed.
As soon as you have completed the online check-in, you will receive your boarding pass. You can save them or print them out directly.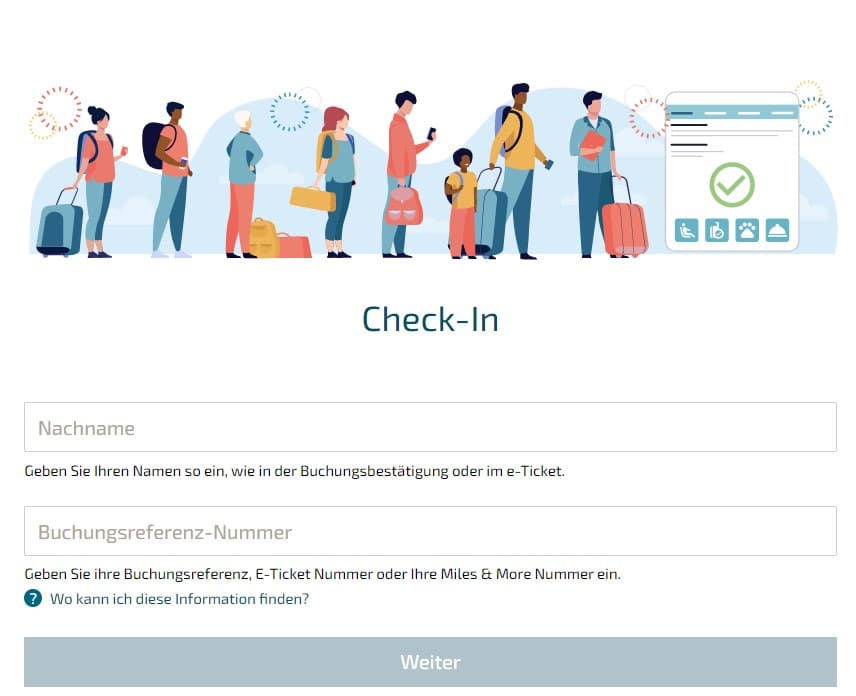 Luxair online check-in information
When is online check-in possible?
Luxair check-in via the Internet is possible from 24 hours to one hour before the scheduled departure.
On which flights is online check-in not possible?
Unfortunately, online check-in is not available for all Luxair flights . For the following destinations, you can only use the Check-in via the airport Antwerp (ANR), Bastia (BIA), Burgas (BOJ), Dubai (DWC), Dubrovnik (DBV), Enfidha (NBE), Hurghada (HRG), Jerez de la Frontera (XRY), Madeira – Funchal (FNC), Malta (MLA), Menorca (MAH), Pescara (PSR), Podgorica (TGD), Rimini (RMI), Tivat (TIV), Toulon (TLN), Varna (VAR), Zadar (ZAD).
Check-in documents at Luxair
With Luxair, you can check in your flight with different reference numbers linked to the last name.
Booking reference number:
The booking reference number is a 6-digit alphanumeric code (example 23HTAF) that can be found in the booking confirmation email or on your e-ticket.
E-ticket number
The e-ticket number is a 13-digit number (example: 154637300176327) which you have also received in your confirmation e-mail or with your travel documents.
Baggage policy at Luxair
Detailed information on Luxair's baggage policy can be found on this page.
Checked baggage at Luxair
The free baggage allowance at Luxair is as follows:
Infants up to 2 years 1 piece of luggage weighing up to 23 kg*
Economy 1 piece of luggage of up to 23kg
Business 2 pieces of luggage of up to 32 kg each
Hand luggage at Luxair
Number & Weight
Regardless of the destination, you can take one piece of carry-on luggage on board. If you have booked a flight in Business Class, you are allowed to carry two pieces of hand luggage with you.
Size
For all classes there is a max. Hand luggage size of
55 x 40 x 23 cm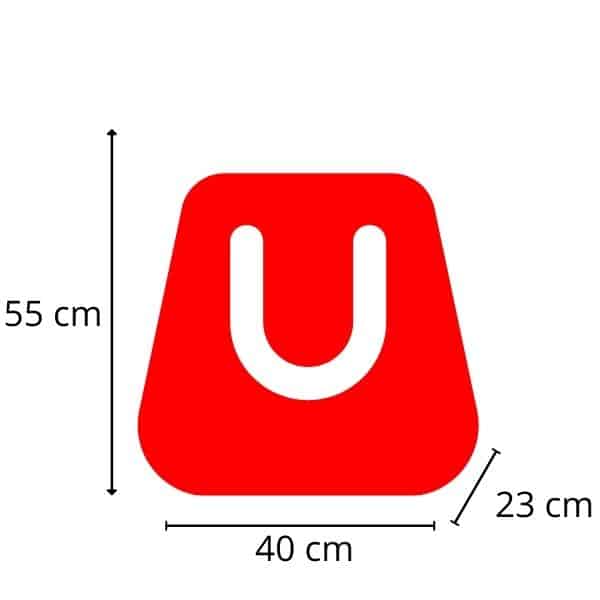 In addition to your carry-on baggage, you are allowed to take ONE small personal item of your choice. These include: handbag (male or female), laptop bag, duty-free shopping bag, camera bag or umbrella.
What else you should know about Luxair
Luxair is an airline based in Luxembourg. It was founded in 1961 and offers both scheduled and charter flights.
Luxair mainly serves destinations in Europe, including many business destinations. The airline operates a modern fleet of aircraft and places great emphasis on safety and customer service. Luxair is known for its reliability and punctuality. In addition to flights, Luxair also offers travel events and car rentals.