EW Online Check-in (Eurowings) can be carried out easily and conveniently from home. You can find out exactly how to check in your Eurowings flight online on this page.
Step-by-step online check-in
How does Eurowings online check-in work?
Eurowings offers online check-in via 4 options. You should have booked through such a company via the booking code, via a customer account with myEurowings, via the group check-in option and by means of the tour operator number.

EW Online Check-in is available 72 hours before your departure . Information on all check-in exceptions can be found on the Euorwings website.
1. Go to the Eurowings website under the following link:
https://www.eurowings.com/
2. Select the item "Check-in" in the menu:


3. When checking in online using the booking code, all you have to do is enter your last name and the corresponding booking code.
4. If you want to check in online for more than 9 people , you can select online check-in for groups. To do this, you must enter your booking code, as well as the title, first and last name of the person to be checked in.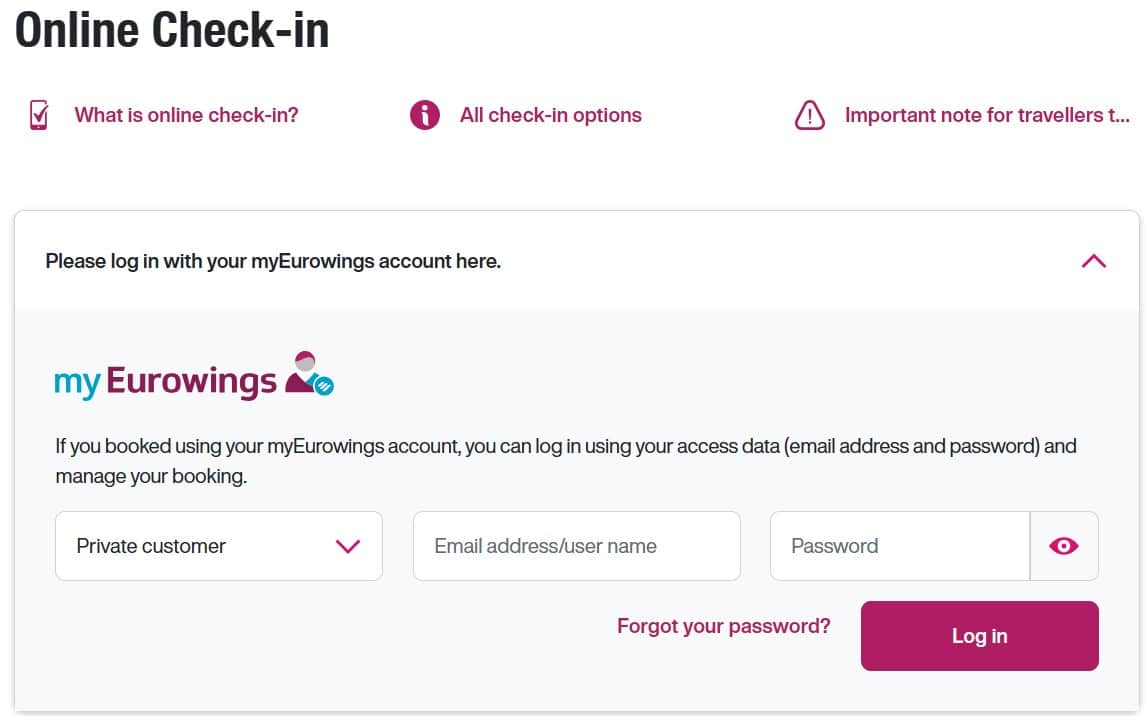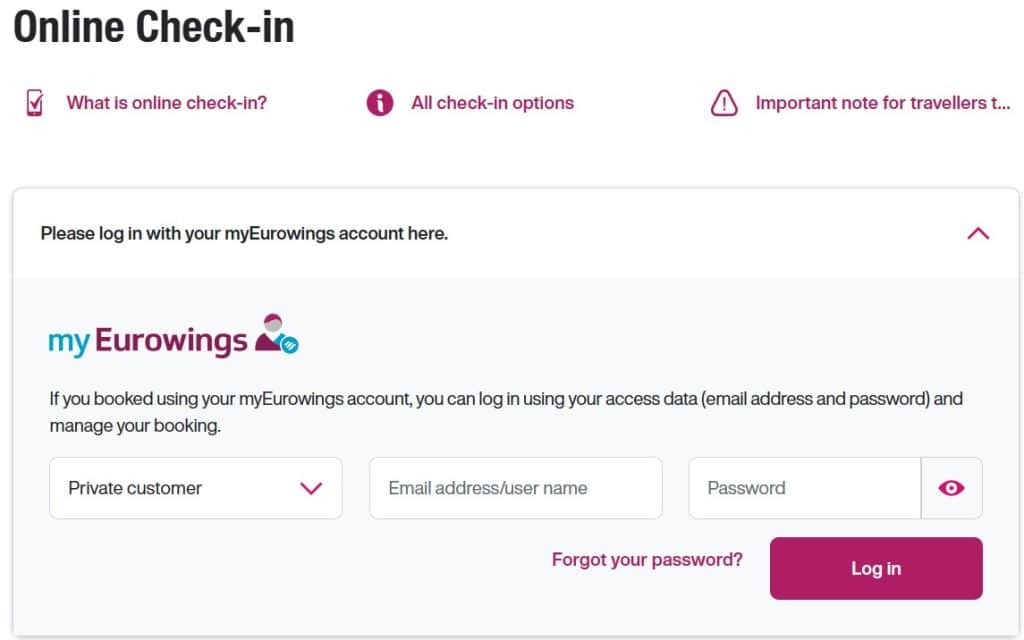 5. Once you have successfully entered the data, you will be taken to the check-in area. Check the flight details provided and compare the information with that on your travel documents.
6. If all the dates are correct, you can reserve a seat. Seat reservation is only possible for an additional charge for BASIC fare bookings.
-> For more information on seat reservation with Eurowings .
7. Complete EW Check-in, download and print your boarding pass.
Eurowings baggage information
If you are travelling with carry-on baggage only, you can go directly to the security check at the airport. In the case of normal baggage, excess baggage or special baggage, you still have to go to the baggage check-in.
At the airports of Hanover, Cologne/Bonn, Munich and Stuttgart, you can use the baggage drop-off counters, which are used exclusively for baggage check-in.
Each passenger has the option of checking in up to 5 pieces of baggage, with each piece of baggage weighing a maximum of 32 kg. Baggage may incur additional costs depending on the fare.
Carry-on baggage Eurowings
Number & Weight
– Basic fare bookable from 15€
– Smart Fare 1 hand luggage up to 8 kg
– BIZclass 2 hand luggage up to 8 kg
Size
For all classes there is a max. Hand luggage size of
55 x 40 x 23 cm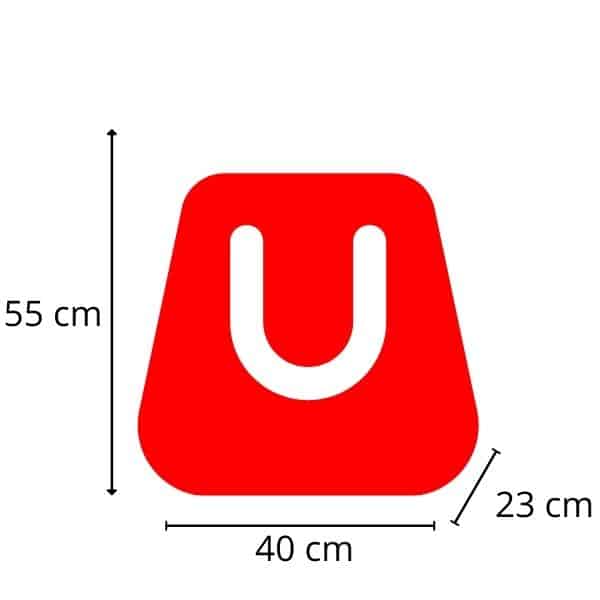 What is prohibited in carry-on baggage?
There are some items that are absolutely prohibited in carry-on baggage due to possible danger to passengers and crew.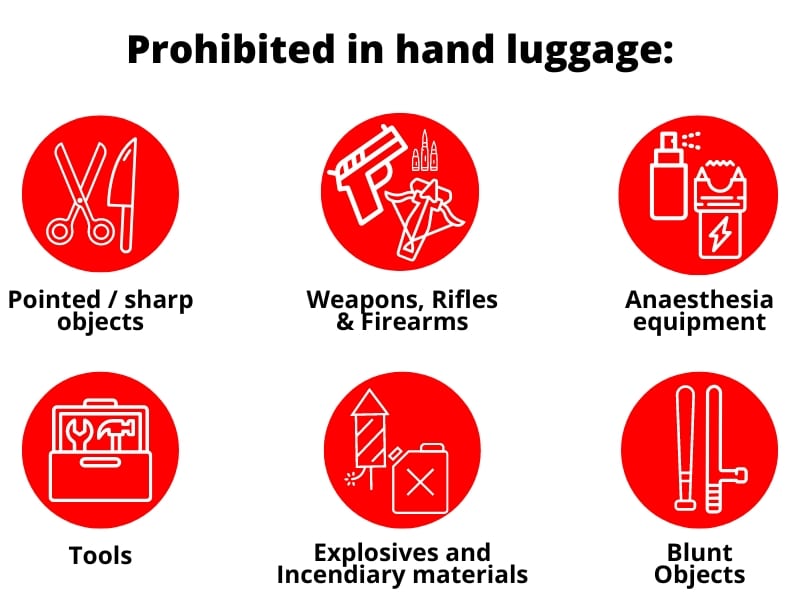 Weapons, Rifles & Firearms
Pistols, revolvers, rifles, shotguns and other firearms of all kinds
Parts of firearms
Toy weapons, as well as replicas and imitations of real weapons
Signal pistols and starting pistols
Pointed or sharp objects
Razor
Needles
Axes, hatchets and cleavers
Knives and scissors
Utility knife
Swords and sabres
Anesthetic devices
Taser, stun guns, stun sticks
Apparatus for stunning and killing livestock
Chemicals, gases or sprays that cause incapacitation
Tools
Crowbar
Drills
Saw
Bolt guns
Blunt objects
Baseball and softball bats
Clubs and batons like bats
Martial arts equipment
Explosives and incendiary substances
Ammunition detonators
Detonators and detonators
Replicas or imitations of explosive devices
Dynamite, gunpowder and plastic explosives
Important information for Eurowings flights
Eurowings partner airlines:
For flights with Eurowings partner airlines that do not have an EW flight number, the regulations of the respective airline apply. These can be found on the respective website of the airline. Eurowings' partners include: Lufthansa, SWISS, Austrian Airlines, Brussels Airlines, Condor, United Airlines, Air Canada and All Nippon Airways.
Eurowings online check-in boarding pass for a connecting flight
If you take off from a German Eurowings departure airport (except Friedrichshafen and Rostock-Laage) and change planes either in Hanover, Cologne, Berlin or Stuttgart, you will receive your boarding pass at the departure airport.
If you are departing from another airport and changing planes in Cologne or Stuttgart, you will receive the boarding pass for the onward flight at the Eurowings transfer counter in the gate area. If you are changing planes in Hanover or Berlin, you can buy your boarding pass at the Eurowings transfer counter in the departure hall.
General information about the airline Eurowings
Eurowings is a subsidiary of Deutsche Lufthansa and is one of the low-cost airlines. The airline is based in Dusseldorf, Germany.
It bundles Deutsche Lufthansa's range of flights away from the Frankfurt and Munich hubs.
Eurowings mainly operates flights to German and European destinations. However, long-haul destinations in Central and North America, Asia, Africa and the Middle East are also served from Cologne/Bonn.
Find out more about Eurowings…
Find more airlines and check-in options on https://flug-check-in.de