Want to check in for your EVA Air flight? EVA Air online check-in is easy. With us you will learn step by step how to do it and what you need to consider.
Perform check-in
Open the German version of the EVA Air website via this direct link.
Now scroll down a bit on the website until you discover the button that says Online Check-in .
You will now be taken to the check-in window and have the option to check-in in two ways : with your booking reference number or ticket number or, if you are a member of the EVA frequent flyer program, via your Infinity MileageLands membership number.
Check-in with the booking reference/ticket number: Enter your first name and surname as well as the booking number (you will find it in your travel documents when you confirm your booking) or the ticket number (usually also included in the travel documents).
Check-in with MileageLands membership number: If you have a member account with the EVA Air MileageLands program and have entered your membership number when booking your flight, you can also check in by logging into your member account.
You will then be taken to the EVA Air check-in interface and can check in your flight and, if possible, reserve a seat.
Once all the data has been entered, you can now print out the boarding pass or register via . Send an e-mail and show it at the airport, e.g. on your smartphone.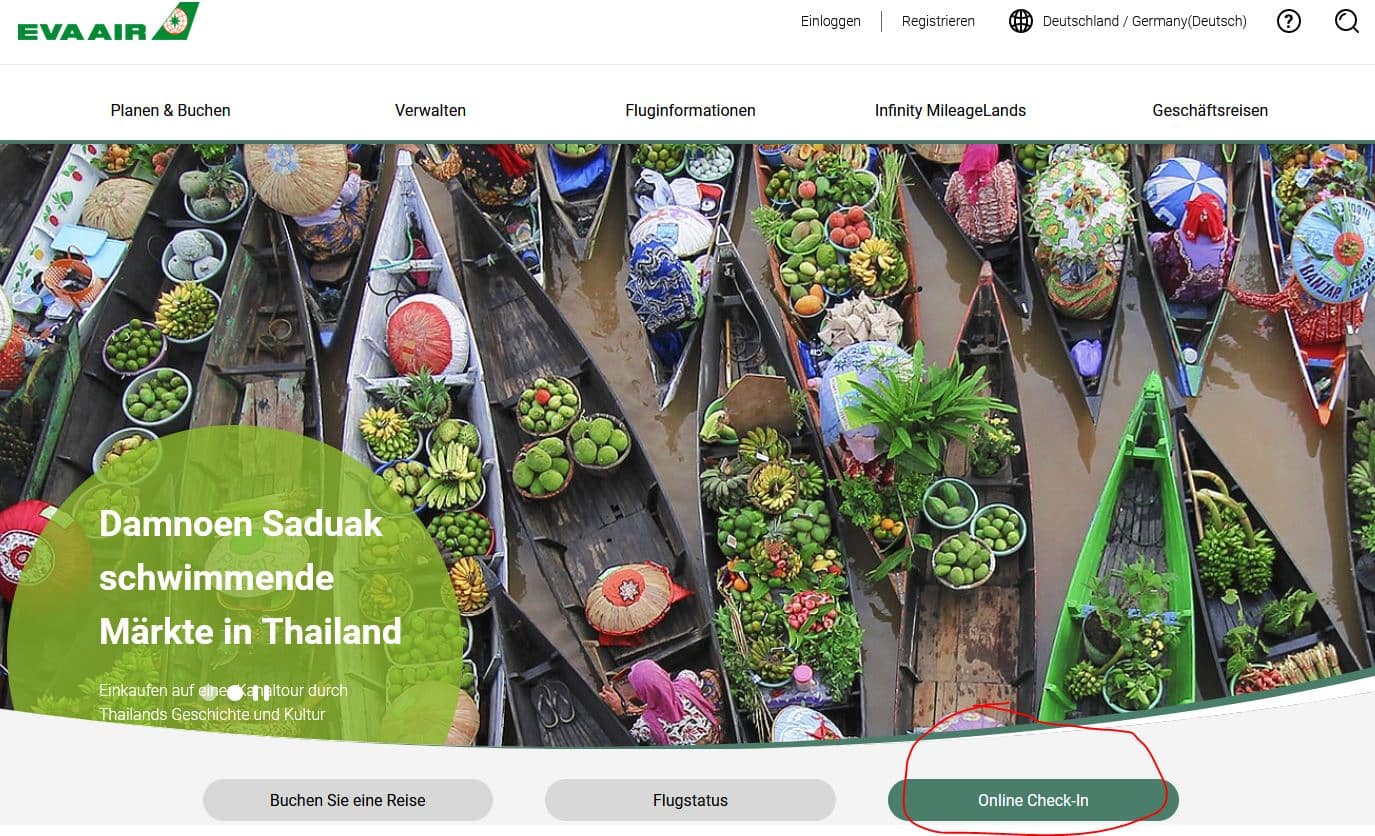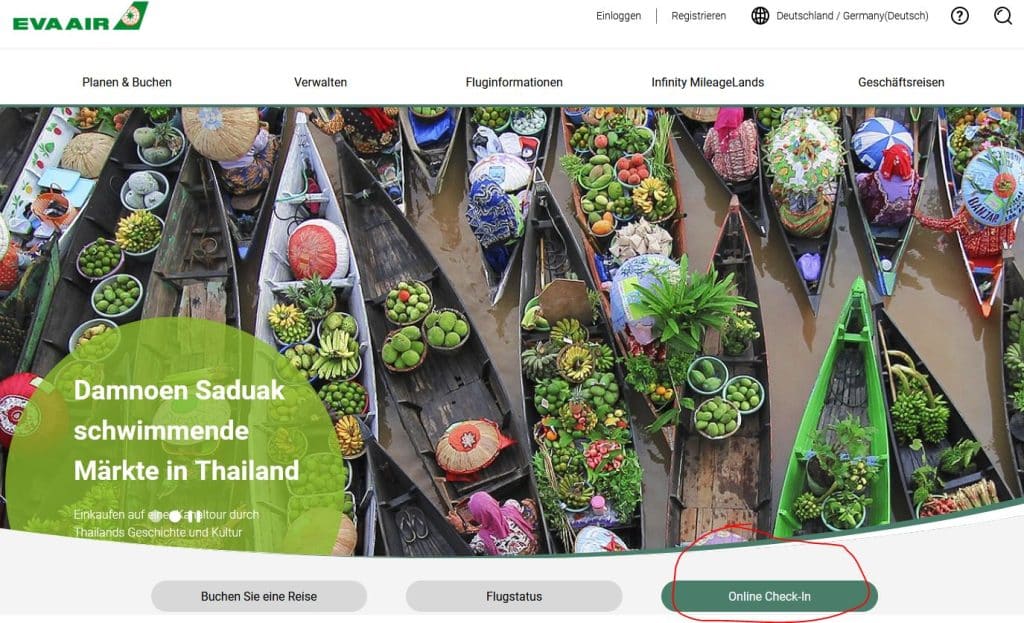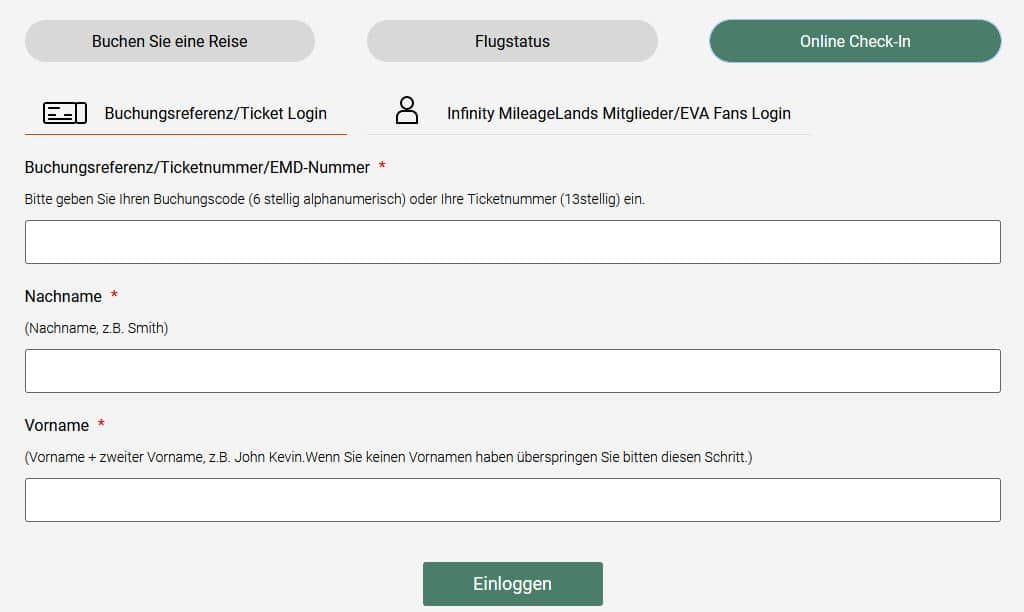 Online check-in at EVA Air
Check-in times
You can check in your EVA Air flight online 48 hours before your scheduled departure. As a rule, online check-in is possible up to one hour before departure. You can find out more about check-in on the EVA Air page.
Luggage at online check-in
Once you have completed the online check-in, you will receive a boarding pass. But what do you do with your luggage? You can drop off your checked baggage at the airport either at an EVA Air check-in counter or at a self-service baggage kiosk . You will need to show your boarding pass at the counter or at the vending machine. You will then check in your baggage, receive the baggage confirmation and your suitcase will be brought to your aircraft (just like normal check-in).
Automatic check-in
EVA Air also offers the possibility of automatic check-in. This means that your flight will be checked in automatically. This service can be booked directly through the EVA Air website and is available from 360 to 2 days prior to scheduled departure.
To do this, simply go to the following page: https://booking.evaair.com/flyeva/eva/b2c/manage-your-trip/online-checked-in-login.aspx?lang=de-de
Introduce your data as described in the check-in process already described.
Select the "automatic check-in" option.
Note on automatic check-in:
If passengers have not made a seat reservation, they will be randomly assigned to a seat by the automatic check-in system. If there are free places available, it is still possible to make changes online. Automatic check-in can be applied simultaneously to all flight segments that are in the same booking reference.
What you should know about EVA Air
EVA Air is a renowned Taiwanese airline based in Taipei. Founded in 1989, EVA Air has established itself as one of the leading airlines in Asia and worldwide. The airline has an excellent reputation for its quality of service, its modern aircraft and its commitment to passenger safety.
Fleet size and route network:
EVA Air operates an extensive fleet of aircraft consisting of a combination of long-haul and short-haul aircraft. The fleet includes modern aircraft such as the Airbus A330, Boeing 777 and Airbus A321. Through this versatile fleet, EVA Air is able to fly to a wide range of destinations around the world.
Destinations:
The airline serves more than 60 destinations in North America, Europe, Asia and Australia. Some of the most popular destinations include cities such as Los Angeles, New York, London, Paris, Munich, Vienna , and Sydney. EVA Air offers both direct flights and connecting flights through its hubs in Taipei, giving passengers a wider choice of travel options.