The airport in Frankfurt is known to be the largest in all of Europe. Is it any wonder that it's easy to get lost here?
To help you find your way around the airport, we have created a Frankfurt check-in guide for you.
Step-by-step – Check-in at Frankfurt Airport
If you arrive at the airport in Frankfurt and want to check in directly, the first thing you need to do is look for the right counter. Each airline at Frankfurt Airport has its own check-in counters.
You can use the Frankfurt Airport website to find out in which terminal and hall your airline's check-in counters can be found.
Once you have arrived at the appropriate counter, check-in usually proceeds as follows:
First of all, you must show your passport or identity card, your flight ticket and, if applicable, a visa document or corona-related document (test certificate, proof of vaccination, entry document…).
The luggage is then placed on the conveyor belt and weighed. If your baggage is heavier than the weight limit allowed in the travel fare, you may be required to pay for the excess weight. Your carry-on baggage stays with you.
At the end, you will receive your boarding pass with information about the gate, boarding time, departure time and seat of your flight.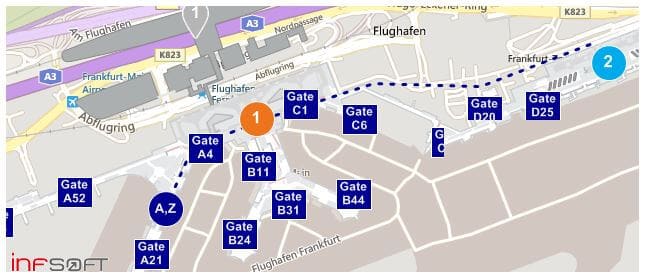 AirRail Check-in Frankfurt Airport
Lufthansa Express Rail passengers can check in their baggage and check in their flight during the transition to the long-distance train station.
With AirRail Check-in in Frankfurt, you can check in your flight and check in your baggage quickly and without long waiting times.
Self-service check-in kiosks at Frankfurt Airport
To make check-in as easy as possible, some airlines offer the option of checking in at a check-in kiosk.
This service is available to Lufthansa passengers in particular. The kiosks are located in check-in areas A and B of Terminal 1 as well as at the long-distance train station.
Currently, 37 other airlines offer the possibility to check in at the machine. There are a total of 80 such check-in machines at Frankfurt Airport. These are located at many locations in the two terminals and at the long-distance train station. You can recognize them by their red color.
Tips for check-in
There are many ways to check in at Frankfurt Airport. From check-in the evening before, to the check-in machine, to the long-distance train station check-in.
In general, you will need the following documents for each type of check-in:
Your flight ticket
Identity card or passport
depending on – whether required – a visa
Flight schedule Frankfurt Airport
Frankfurt Airport's flight schedule lists all available flight routes and up-to-date information on flights. If you would like more details, please visit our Frankfurt Airport flight schedule page.