With us you will learn step by step how you can check in your Emirates flight easily and quickly online.
Emirates online check-in – step by step
To complete the Emirates online check-in, you must first open the official Emirates website via the following link: https://www.emirates.com/uk/english/manage-booking/online-check-in/
By entering your surname and booking number/PNR, the Emirates online check-in can be carried out. Enter your details and click on the "Check-in" button. You should find your Emirates booking number in your booking documents or receive it via email or post after booking your flight.
The Emirates check-in area will now open. Please check the flight details displayed with the flight details on your booking confirmation before checking in.
During the check-in process, you now have the option to reserve a seat for your Emirates flight. If you have already reserved a seat when booking your flight, you can still change the reservation now.
You can also add a missing Emirates Skywards number during the check-in process

if you are a member of the Emirates Miles Programme (Loyalty Programme).

After completing the Emirates online check-in, an eBoarding pass will be issued for each individual passenger (including tour groups). You should print out this Emirates eBoarding Pass and take it with you to the airport on the day of departure.


---
Important information about Emirates Check-in
When is check-in possible?
Emirates online check-in is available 48 hours prior to scheduled departure and closes to all passengers 90 minutes prior to scheduled departure.
Booking number on the eTicket
If you have received your eTicket by e-mail, you will find a six-character code to the right of the "Your booking reference" field. This code is the booking number. On the flight coupon or on the ticket you will find the PNR, six alphanumeric characters in the right area of the ticket.
Emirates Seat Selection
Early seat selection makes it easy to save time at Emirates check-in. You can use the seat selection tool via the Emirates website under the 'Manage Booking' menu item or via the Emirates App as soon as you pay for your flight.
To use the tool requires the booking code and surname of the passengers. Depending on the desired seat, there are different costs, more detailed information about the costs of the different seats can be found under https://www.emirates.com/uk/english/manage-booking/online-check-in/.
Emirates Online Check-in Baggage Information
If you have used Emirates Online Check-in and still wish to check in baggage, please note the following:
Arrive at the airport at least 90 minutes before the scheduled departure time. Luggage is simply dropped off at the online check-in counter or at the baggage drop-off counter.
Emirates Airline's baggage policy
Regulations for checked baggage
The dimensions of the baggage must not exceed 300 cm (length + width + height).
At Emirates, the baggage allowance is determined by the total weight of all your baggage. You can take as many pieces of luggage as you want, which do not exceed the total weight limit. In addition, a single piece of luggage max. 32 kg weigh.
Economy Class:
Special: 20 kg
Saver: 25 kg
Flex: 30 kg
Flex Plus: 35 kg
Other classes:
Premium Economy: 35 kg
Business Class: 40 kg
First Class: 50 kg
Carry-on baggage regulations
Number & Weight
Economy Class – 1 carry-on baggage up to 7 kg
Business & First Class – 1 carry-on baggage up to 7 kg plus a briefcase up to 7 kg
Size
For all classes there is a max. Hand luggage size of
55 x 38 x 20 cm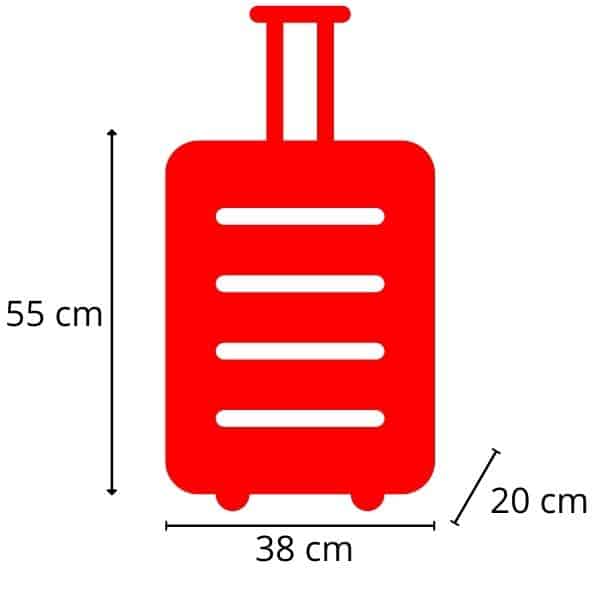 What is prohibited in carry-on baggage?
There are some items that are absolutely prohibited in carry-on baggage due to possible danger to passengers and crew.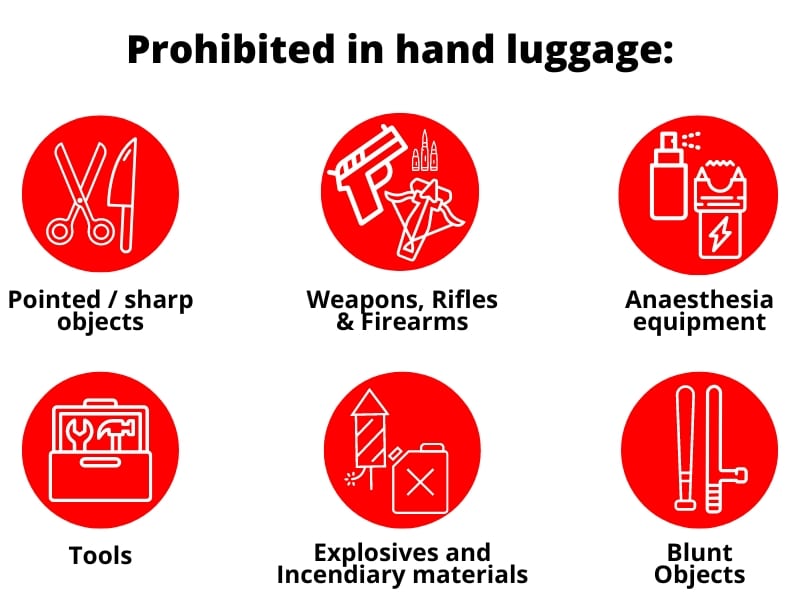 Weapons, Rifles & Firearms
Pistols, revolvers, rifles, shotguns and other firearms of all kinds
Parts of firearms
Toy weapons, as well as replicas and imitations of real weapons
Signal pistols and starting pistols
Pointed or sharp objects
Razor
Needles
Axes, hatchets and cleavers
Knives and scissors
Utility knife
Swords and sabres
Anesthetic devices
Taser, stun guns, stun sticks
Apparatus for stunning and killing livestock
Chemicals, gases or sprays that cause incapacitation
Tools
Crowbar
Drills
Saw
Bolt guns
Blunt objects
Baseball and softball bats
Clubs and batons like bats
Martial arts equipment
Explosives and incendiary substances
Ammunition detonators
Detonators and detonators
Replicas or imitations of explosive devices
Dynamite, gunpowder and plastic explosives
General information about the airline Emirates
Emirates was founded in 1985 and is the state-owned airline of the Emirate of Dubai. Initially, only flights to Mumbai, Karachi and New Delhi were offered. Today, the airline carries approximately 52 million passengers annually to approximately 150 destinations on six continents. The fleet now consists of 149 Boeings and Airbuses. For this reason, Emirates is one of the largest airlines in the world.
Service and comfort are top priorities at Emirates Airline. This is not only the case in First Class, but also in Economy Class. All aircraft have Wi-Fi and their own power connection at the seat. You can even make phone calls on board. The latest movies and series can also be consumed through the in-flight entertainment system.
Find more airlines and check-in options on https://flug-check-in.de