Of course, every departure from an airport also includes a check-in process. This is also the case at Cologne's CGN Airport. Basically, you have three options to check in for your flight from Cologne Bonn Airport.
Step by step
Check-in at the counter for Cologne Bonn Airport
The airport has two terminals. Go to the terminal from which your airline will take off. This information can be found either on your booking documents or on the displays at the airport.
Now find the check-in counter of your airline. As a rule, there is a logo of the airlines above the check-in counters. Alternatively, all check-in counters at Cologne Airport are numbered. You can also find the numbers of your airline's possible check-in counters on the displays next to your flight.
Once you have found the right counter, you must present your flight ticket and passport or identity card to the counter employee.
They will now take care of the check-in for you and make the seat reservation.
At the same time, you can drop off your checked baggage and receive a receipt.
Finally, you will receive your boarding pass with gate and seat number.
Now you are ready to go and can go through the security check to your gate .

Check-in at the self-service kiosk for Cologne Bonn Airport
Check-in at check-in machines for certain airlines is also possible at Cologne and Bonn airports. Again, the process is simple.
Look for the check-in machine of your airline with which you will take off from Cologne / Bonn.
The first thing you need to do is scan your passport or ID card at the machine to confirm your identity and let the system access your flight details.
Then enter the information about your flight, such as the flight number, travel date, and destination. You may also need to enter the number of your booking confirmation or e-ticket .
As a rule, you can now choose your seat. Otherwise, you will be assigned a seat.
If you are carrying baggage with you, you can also indicate this and you will subsequently receive a baggage receipt. You must then check in your baggage at a baggage drop-off counter .
Then print out your boarding pass to go through security and board the aircraft.
Check-in via your airline's website
As a rule, most airlines also offer the possibility of online check-in for your flight. You can carry out the check-in process yourself and reserve your seat from the comfort of your own home or on the go. When you arrive at the airport, all you have to do is drop off your checked baggage either at the check-in counter or at the baggage drop-off counter.
Use our check-in overview to find the airline you will be flying with.
Go to your airline's website using the link provided.
Enter your booking details (name, ticket number, tour operator reference number…).
Select your seat.
Print your boarding pass or save the document on your smartphone so you can show it at the airport.
What is important for check-in at Cologne Airport
Better much too early than a little too late
It is advisable to allow enough time, as traffic jams on the way to the airport and overcrowded check-in counters are not uncommon.
Keep in mind that you still have to go through security after check-in and may still need time to buy something to eat or drink before the flight.
As a rule, it is recommended to arrive at the airport at least 2 hours before departure.
Correct terminal
Sounds very banal, but it happens very often. You arrive stressed at the airport and walk straight into the departure building. But are you even in the right terminal?
Cologne Bonn Airport (CGN) is not exactly small and therefore the distances are often long. If you are in the wrong terminal, things can get tight. Therefore, always check in advance which terminal (T1 or T2) is the right one for your flight.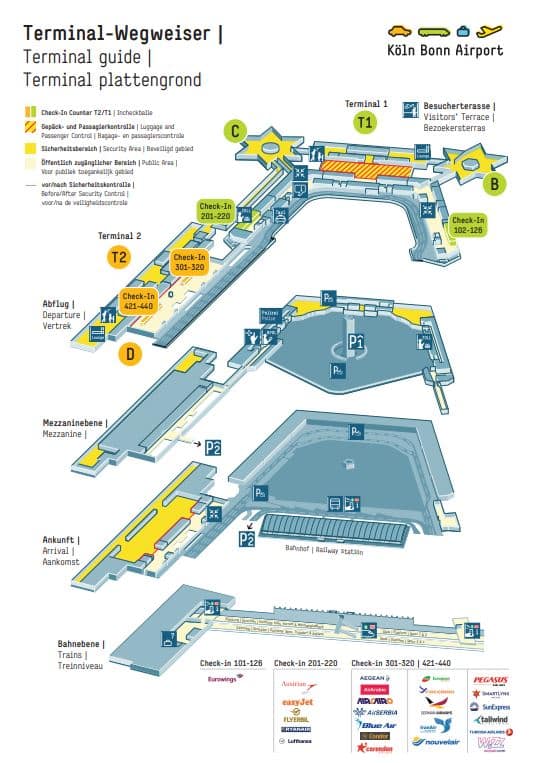 You can get an overview of all areas of Cologne Airport via the following link: https://www.koeln-bonn-airport.de/uploads/tx_download/Terminal_Wegweiser.pdf
Check gate number
Regularly check the gate number of your flight on the screens at the airport. It may be that this changes and you have to go to another gate after all.
For more information about the evening before check-in, please visit:
https://flug-check-in.de/en/evening-before-check-in-this-is-how-it-works/
Cologne Bonn Airport Flight Schedule
The flight schedule of Cologne Bonn Airport (CGN) contains a list of all available flight routes departing or arriving from here. More information about the flight schedule of Cologne Bonn Airport.
Parking at Cologne Airport
Various parking options are available at Cologne Airport. Since airport parking is often very expensive, the comparison is worthwhile. Depending on the type of parking space, there are different rates. With "Parking and Flying" providers, you can often find low-cost parking spaces near your desired airport.