How does the Condor online check-in work?
You can do the Condor online check-in from home or on the go. You will now learn how to proceed step-by-step in this article.
Open access to the Condor online check-in at:
https://www.condor.com/tcibe/de/mybooking/login
The first thing to choose is whether you booked the flight directly through Condor or through a tour operator.
You will then need to provide the booking number (+the tour operator, depending on your choice), the date of departure and the surname of the participant. The booking number can be found on your booking confirmation or travel documents.
If you are in the online check-in area, you can check in by entering your data (first name, last name, passport number …) or the data of all fellow travelers.
You also have the option of selecting a seat . However, depending on the exact tariff, fees may be incurred.
Once you have completed the Condor check-in, you can download the boarding pass as a PDF file or send it to you by e-mail.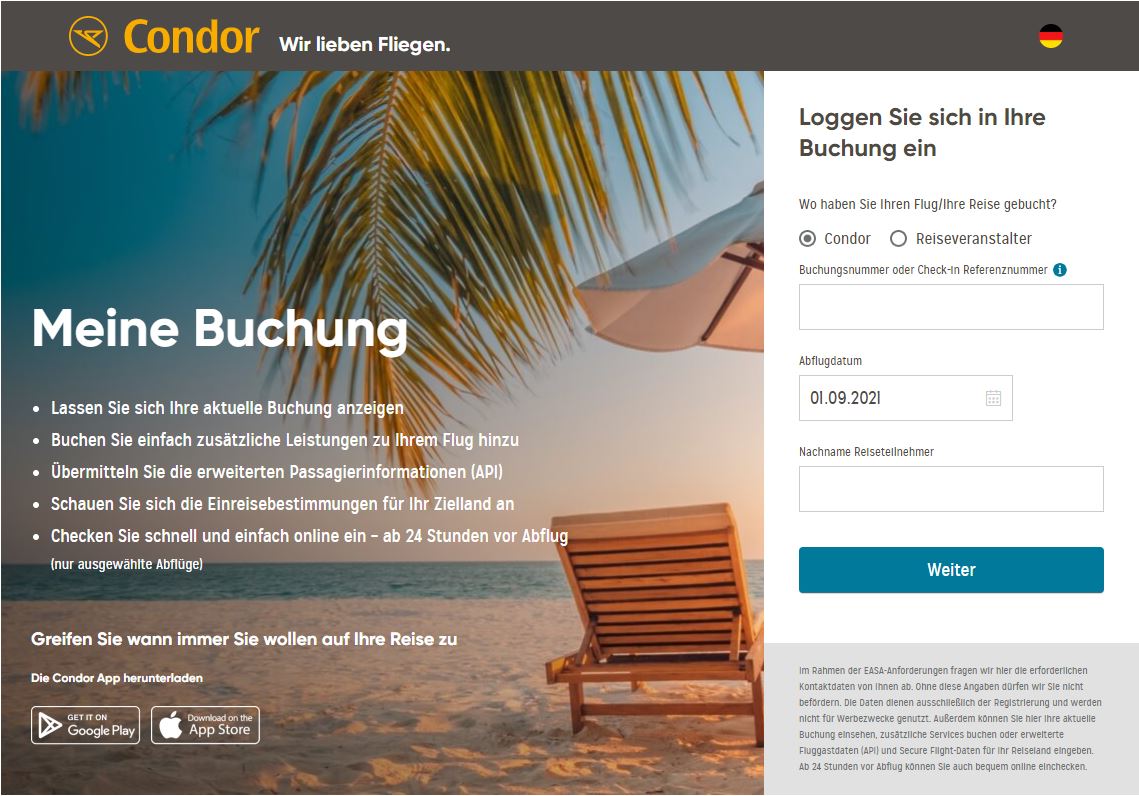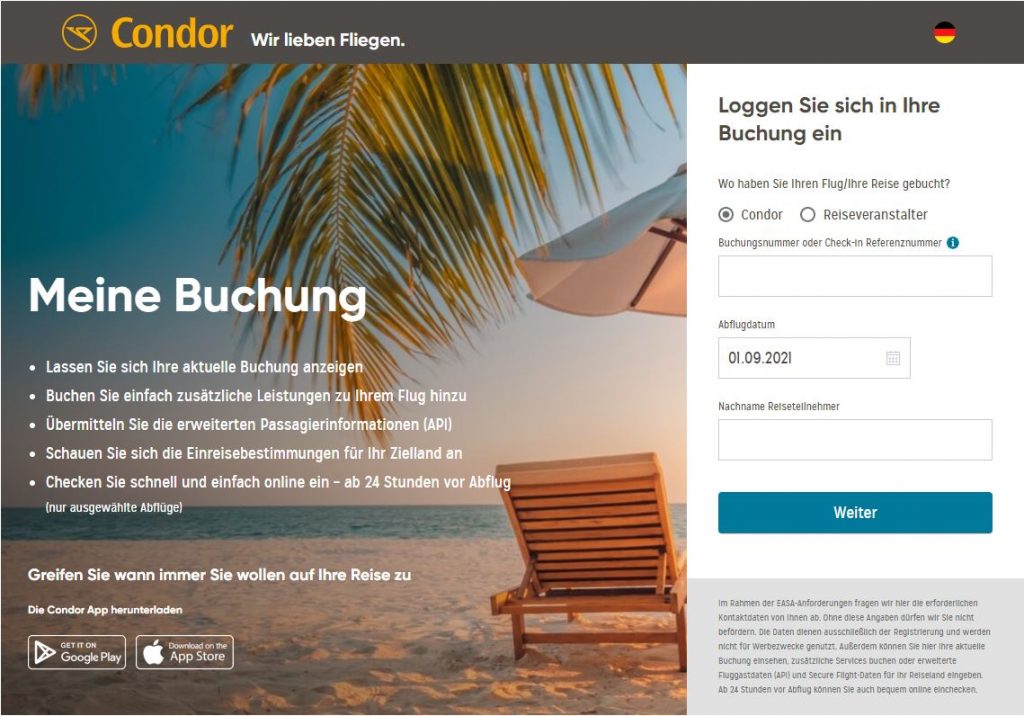 More information about Condor Check-in
The Condor online check-in is activated from one day before departure and is possible up to 2 hours before departure.
You can do check-in for up to 9 people of the booking.
There is the possibility to order vegetarian or vegan food for the flight at check-in. However, a surcharge is usually charged for this.
The Condor baggage regulations
Hand luggage at Condor
Important information:
The exact rules for carry-on baggage depend on your flight zone (long, medium or short-haul) and the fare booked.
Baggage that is not permitted will be stowed in the hold.
Samsung Galaxy Note 7 smartphones may not be carried in carry-on baggage or checked baggage.
Carry-on baggage allowance
Small hand luggage is included on all flights. This must not be larger than 40 x 30 x 10 cm.
On certain flights, or depending on your fare, you are allowed to carry another large carry-on baggage. The maximum dimensions of 55 x 40 x 20 cm apply to this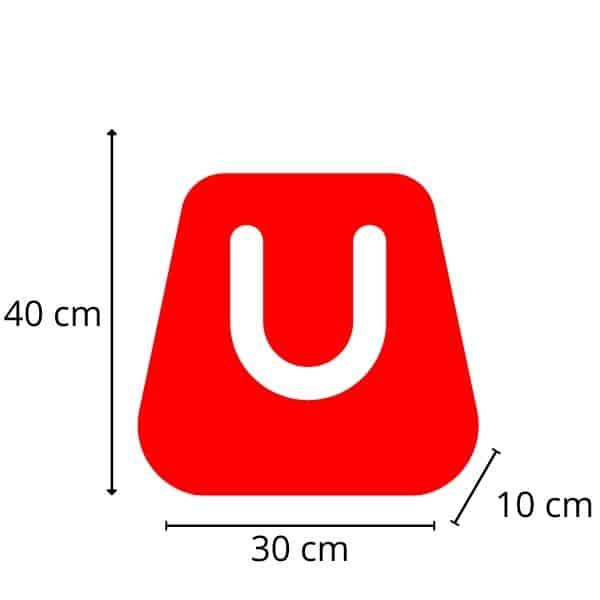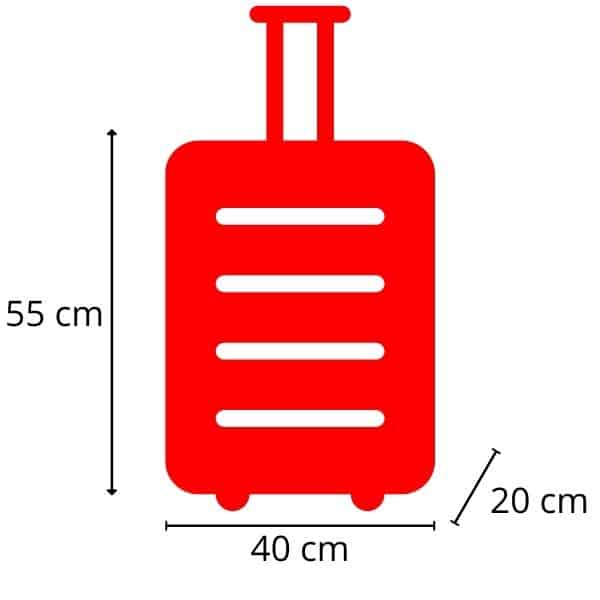 What is prohibited in carry-on baggage?
There are some items that are absolutely prohibited in carry-on baggage due to possible danger to passengers and crew.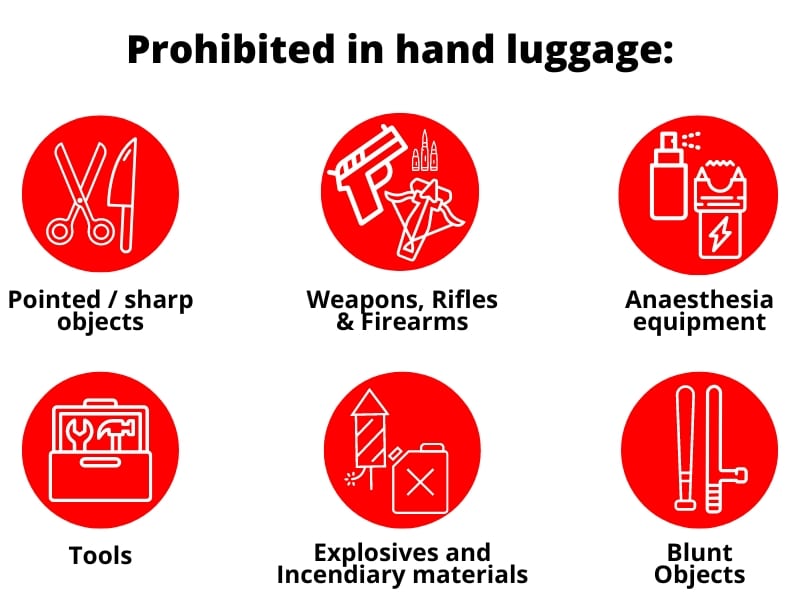 Weapons, Rifles & Firearms
Pistols, revolvers, rifles, shotguns and other firearms of all kinds
Parts of firearms
Toy weapons, as well as replicas and imitations of real weapons
Signal pistols and starting pistols
Pointed or sharp objects
Razor
Needles
Axes, hatchets and cleavers
Knives and scissors
Utility knife
Swords and sabres
Anesthetic devices
Taser, stun guns, stun sticks
Apparatus for stunning and killing livestock
Chemicals, gases or sprays that cause incapacitation
Tools
Crowbar
Drills
Saw
Bolt guns
Blunt objects
Baseball and softball bats
Clubs and batons like bats
Martial arts equipment
Explosives and incendiary substances
Ammunition detonators
Detonators and detonators
Replicas or imitations of explosive devices
Dynamite, gunpowder and plastic explosives
About Condor
Condor is a German airline. The airline was founded in 1955 and today offers flights to more than 80 destinations worldwide. Condor operates a modern fleet of aircraft, including Boeing 767 and Airbus A320. The airline attaches great importance to high service and comfort for its passengers and offers a wide range of travel classes, including Economy, Premium Economy and Business Class. Condor is a member of the airline alliance "SunExpress Deutschland", a joint venture with Turkish Airlines that offers passengers access to an extensive route network. The airline has received several awards for its quality and performance, including the "Best Leisure Airline" award.
Flying with Condor during Corona
Are you planning a flight with Condor during Corona? Then we recommend that you inform yourself beforehand about the measures and guidelines of Condor . So you can prepare for a relaxing flight!