Use Tunisair web check-in to check in your flight from the comfort of your own home, reserve your seat and receive your boarding pass in advance. You can find out how to do this and where you can safely check-in from us
Tunisair Web Check-in – step by step
1. Check-in page
Open the Tunisair check-in page via the following direct link: Check-in page
2. Select the right tab
You will now find the check-in mask in a separate tab. Click on the tab and the check-in screen will now be opened (see figure).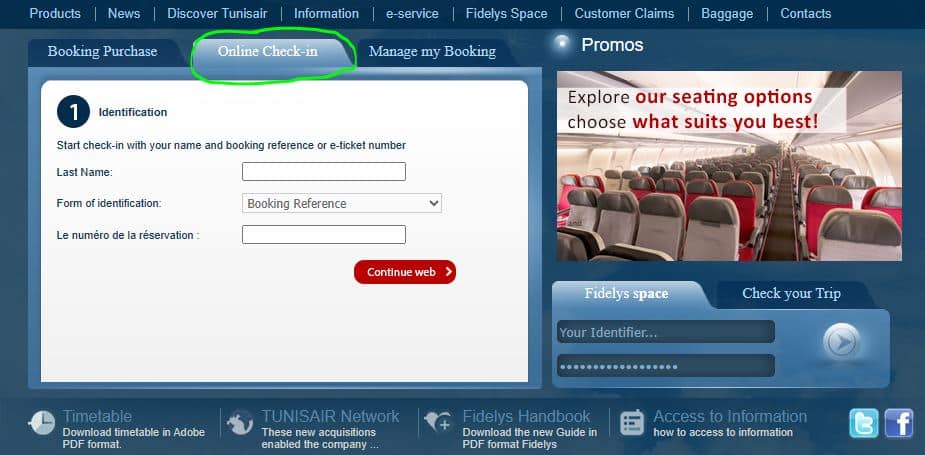 3. Enter booking details
You now have the possibility to carry out the Tunisair online check-in in 3 different ways. For all 3 ways, you must enter the surname of the passenger to whom the ticket or trip was booked.
Check-in with the reference booking number: The reference booking number is a number that you have received in the course of booking your trip, either by e-mail or by post. You will find these in your travel documents.
Check-in with the e-ticket number: You received the e-ticket number in the course of the booking or it is also listed in your travel documents .
Check-in with the loyalty card number: Tunisair also offers a loyalty program for customers, through which you can earn airline miles. If you have entered a loyalty card and the loyalty card number when booking your flight, you can also check in the flight with the loyalty card number.
4. Perform check-in
Once you have entered the data, you will be taken to the Tunis Air Check-in overview and can check in your flight, select your seat and reserve it.
If you are travelling in a group and have booked the flight together, you can check-in for all fellow travellers.
5. Get your boarding pass
You will now receive your boarding pass online and can print it out or save it on your smartphone.
Exception: If you are departing from Tunisia, you must pick up your boarding pass at the "Web and Mobile Check in" airport counter.
Important for Tunisair online check-in
Check-in times
You can check in your Tunisair flight online at the earliest 24 hours before the scheduled departure. As a rule, online check-in is available up to three hours before departure.
Luggage at online check-in
Once you have completed the online check-in, you will receive a boarding pass. But what do you do with your luggage? You can drop off your checked baggage at the airport either at a Tunis Air check-in counter or at a self-service baggage kiosk or at a special web and mobile check-in counter .
You will need to show your boarding pass at the counter or vending machine. You will then receive the baggage confirmation.
When is online check-in not possible?
People with reduced mobility, children travelling alone and people who wish to take an animal with them cannot use Tunisair online check-in. These groups of passengers should carry out the normal counter check-in at the airport .
Facts about Tunisair
Tunisair is the national airline of Tunisia and one of the oldest airlines in Africa. Founded in 1948, it has since expanded its route network and now offers flights to numerous domestic and international destinations.
Base and flight connections
Tunisair's main base is located at Tunis-Carthage International Airport in Tunis, the capital of Tunisia. From here, the airline serves more than 30 destinations in Europe, Africa and the Middle East. Popular European destinations include Paris, Hamburg, Frankfurt, Zurich and Munich, while Africa flies to Algiers, Cairo, Dakar and Casablanca, among others.
If you are looking for a flight connection, use our free flight search engine.
Tunisair aircraft fleet
Tunisair operates a modern fleet consisting mainly of Airbus aircraft. Its aircraft types include Airbus A320, Airbus A319 and Airbus A330. These aircraft are equipped with state-of-the-art technology and provide passengers with comfort and safety during the flight.