Alitalia is the old name of today's ITA Airways. In October 2021, the Italian airline Alitalia was taken over by the state-owned successor company Italia Trasporto Aereo (ITA) and continued to operate under the name ITA Airways.
With Alitalia or ITA Airways, you have the option of checking in your flight from the comfort of your own home.
Alitalia / ITA Online Check-in – Step by Step
Open the ITA Airways online check-in at the following link:
https://www.ita-airways.com/en_gb/check-in-search.html
Enter your booking details such as the booking or ticket number , as well as the nameand surname .
Now you can start with the check-in. You have the option of checking in yourself and passengers traveling with you .
When checking in online, you can also choose a seat for departure, depending on your preference. Depending on the fare class, however, there is a surcharge .
At the end, you will receive your boarding pass of all checked-in persons and can save it or print it directly.


Check-in conditions for Alitalia / ITA flights
When is the Alitalia / ITA online check-in available?
As a rule, online check-in for flights with Alitalia or ITA is activated 48 hours before departure.
Exceptionn:
USA flights: For flights to and from the USA, online check-in is only possible 24 hours before departure.
Flights from Geneva & Zurich: For flights departing from Geneva and Zurich airports, check-in opens 24 hours before departure.
Flights from Amsterdam & Paris: For flights departing from Amsterdam and Paris airports, you can check in online 30 minutes before departure.
Until when is the Alitalia / ITA online check-in available?
How long you can check in online depends on whether it's a domestic flight or not. For international flights, online check-in is possible up to 1.5 hours before departure.
For all other flights, it is not possible to make a general statement about online check-in, as for some flights check-in is not done via the ITA website (flights from Amsterdam, Geneva, Zurich and Paris).
You can find out more at: https://www.ita-airways.com/en_gb/fly-ita/check-in.html
Baggage policy ITA Airways
Baggage allowance with ITA Airways
The amount of checked baggage you are allowed to take with you on your ITA flight depends on the class of travel you have booked. In principle, all luggage must not be larger than 158 cm (sum of height + width + thickness).
Economy Light – No baggage allowance
Economy – 1 x 23kg
Premium Economy – 2 x 23kg
Business – 2 x 32
Comfort (Rome-Milan) – 2 x 23 kg
Carry-on baggage at ITA Airways
Number & Weight
You are allowed to carry one carry-on baggage of up to 8 kg on your ITA Airways.
Size
For all classes there is a max. Hand luggage size of
55 x 35 x 25 cm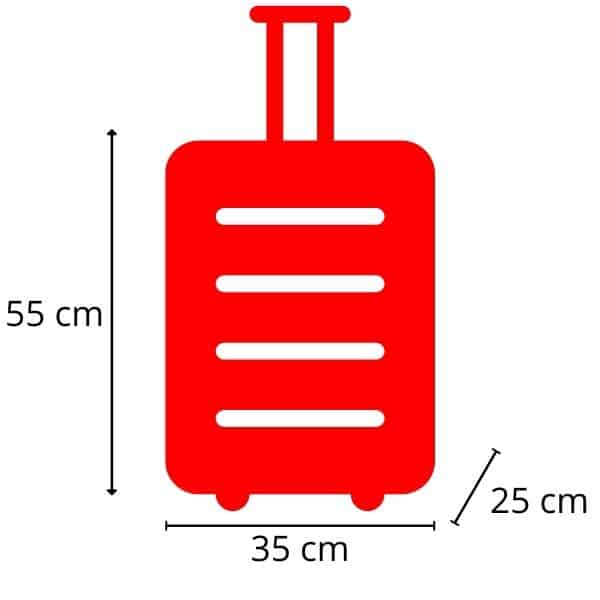 What is prohibited in carry-on baggage?
There are some items that are absolutely prohibited in carry-on baggage due to possible danger to passengers and crew.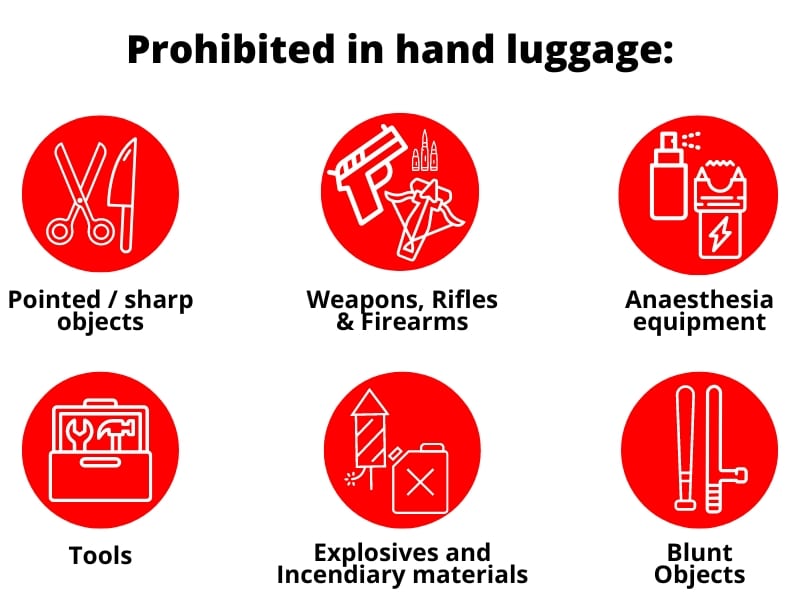 Weapons, Rifles & Firearms
Pistols, revolvers, rifles, shotguns and other firearms of all kinds
Parts of firearms
Toy weapons, as well as replicas and imitations of real weapons
Signal pistols and starting pistols
Pointed or sharp objects
Razor
Needles
Axes, hatchets and cleavers
Knives and scissors
Utility knife
Swords and sabres
Anesthetic devices
Taser, stun guns, stun sticks
Apparatus for stunning and killing livestock
Chemicals, gases or sprays that cause incapacitation
Tools
Crowbar
Drills
Saw
Bolt guns
Blunt objects
Baseball and softball bats
Clubs and batons like bats
Martial arts equipment
Explosives and incendiary substances
Ammunition detonators
Detonators and detonators
Replicas or imitations of explosive devices
Dynamite, gunpowder and plastic explosives
General information about ITA Airways or Alitalia
ITA Airways is an Italian airline that was founded in 2021 and becomes the successor company of Alitalia. The company was created to continue and develop Alitalia's flight operations.
ITA Airways is headquartered in Rome and operates domestic and international flights to various destinations worldwide. The airline serves both popular tourist destinations and major business routes. ITA Airways offers both scheduled and charter flights.
ITA Airways' fleet consists of modern and efficient aircraft. The company has placed an order for new aircraft to renew its fleet and keep it up to date with the latest technology. This allows for improved performance and efficiency, as well as greater comfort for passengers.
Alitalia becomes ITA Airways
Alitalia was the national airline of Italy. She was also a member of the SkyTeam, which is a member of the Lufthansa Air Alliance. On October 14, 2021, the last Alitalia aircraft took off from Cagliari for Rome. Subsequently, the airline operated under the Trasporto Aereo (ITA).
The state-owned and new successor company Trasporto Aereo (ITA) secured the rights to the Alitalia brand and for it under the name ITA Airways.