In this article, you will learn how you can easily and quickly check in your flight with Ryanair from home.
Ryanair online check-in – step by step
Open the access page for Ryanair online check-in via the following link:
https://www.ryanair.com/de/de/lp/check-in
Using your reservation number and e-mail address , you can log in to the customer area. You will find the booking number on your travel documents. Use the e-mail address you provided when you made your booking.
Now you will receive an overview of your booked flights. You will find a "Check-in" button under the desired flight.
In the next step, you will be asked to provide information about yourself .
Before you complete the online check-in, you have the option of booking additional baggage or insurance if necessary.
Once you've completed your web check-in, you'll receive your boarding pass. You should save and print them out directly.


Important questions about Ryanair online check-in
When can Ryanair online check-in be carried out?
Ryanair online check-in is possible 48 hours before the scheduled departure and is available up to 2 hours before departure.
How do I get my boarding pass after check-in?
Once you have successfully completed your online check-in, you will be automatically redirected to your boarding pass. You can save the boarding pass or print it directly.
If you have checked in via the Ryanair app, you will also find your boarding pass in digital form in the app.
Would you like instructions for online check-in for another airline? No problem. You can find many more guides on our website https://flug-check-in.de .
Can I reserve a seat with Ryanair?
Yes, it is possible to reserve a seat with Ryanair. You can do this, for example, during online check-in. We have summarised more about seat reservations on the page "Seat reservation with Ryanair".
Baggage policy Ryanair
One piece of carry-on baggage is included in all Ryanair fares.
This carry-on baggage must fit under the flight seat in front of you and must not exceed 40 cm x 25 cm x 20 cm .
If you would like to carry additional pieces of luggage, you have the option of booking them separately at online check-in or at the counter. The costs depend on the size and weight of the baggage.
Ryanair offers a priority fare, a 10 kg fare and a 20 kg fare.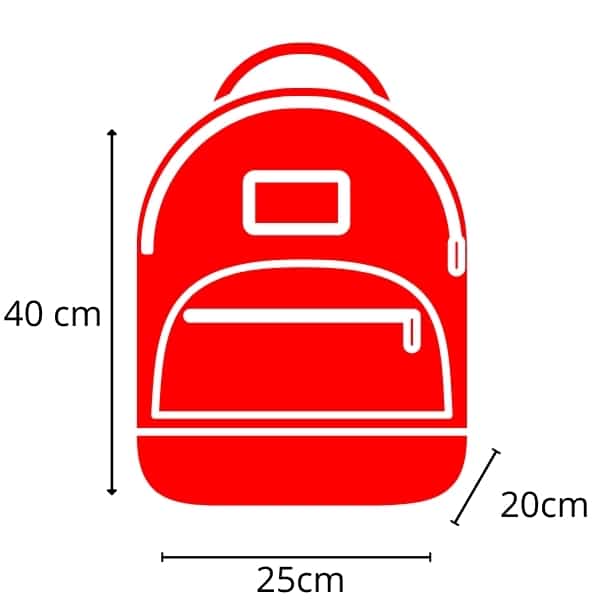 Priority
With this fare, you have the option of boarding via the priority queue (shorter waiting times).
You are allowed to take a 10 kg wheeled suitcase (55 x 40 x 20cm) and hand luggage (40 x 20 x25 cm) with you.
10 kg of luggage
If you want to take a little more with you on holiday, you can check in a 10 kg piece of luggage.
You are also allowed to carry more liquids in it compared to hand luggage.
20 kg luggage
If you are planning a big trip or want to take a suitcase for the whole family, you can check in up to 3x 20 kg of luggage at the counter.
What is prohibited in carry-on baggage?
There are some items that are absolutely prohibited in carry-on baggage due to possible danger to passengers and crew.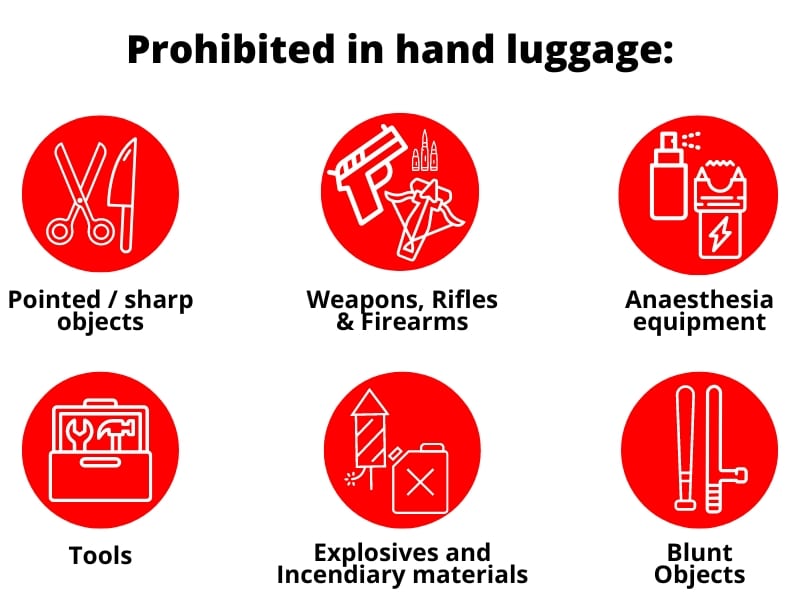 Weapons, Rifles & Firearms
Pistols, revolvers, rifles, shotguns and other firearms of all kinds
Parts of firearms
Toy weapons, as well as replicas and imitations of real weapons
Signal pistols and starting pistols
Pointed or sharp objects
Razor
Needles
Axes, hatchets and cleavers
Knives and scissors
Utility knife
Swords and sabres
Anesthetic devices
Taser, stun guns, stun sticks
Apparatus for stunning and killing livestock
Chemicals, gases or sprays that cause incapacitation
Tools
Crowbar
Drills
Saw
Bolt guns
Blunt objects
Baseball and softball bats
Clubs and batons like bats
Martial arts equipment
Explosives and incendiary substances
Ammunition detonators
Detonators and detonators
Replicas or imitations of explosive devices
Dynamite, gunpowder and plastic explosives
Ryan Air – this is important…
Ryanair is an Irish low-cost airline based in Dublin. Founded in 1984, Ryanair is now the largest low-cost airline in Europe, serving a network of over 200 destinations in Europe, North Africa and the Middle East.
Ryanair's fleet consists mainly of Boeing 737-800 aircraft, which are known for their efficiency and reliability. Ryanair offers its passengers a single economy class on board and has a strict fee policy for baggage, seat reservation and other services.
Ryanair is known for its aggressive pricing strategy and aims to make air travel affordable for everyone. The airline also has a high punctuality rate and has won several awards for its quality of service in the past.
Ryanair is not a member of an airline alliance, but has entered into codeshare agreements with other airlines such as Air Europa and Aer Lingus to provide its passengers with access to a wider network of destinations.
Ryan Air and Corona
Would you like to know which corona measures Ryanair complies with to protect your safety? Then you are welcome to inform yourself about the precautionary measures and applicable Corona regulations of Ryanair.