Are power banks, camera batteries, tweezers, straighteners or contact lens solutions even allowed in hand luggage?
You will find out the answer to exactly this question in this article.
---
Cosmetics in carry-on baggage
One of the most important regulations is the 100ml restriction in hand luggage.
You are only allowed to carry liquids up to 100ml each in your hand luggage and do not have a total of more than 1 liter in your hand luggage (e.g.max. 10x 100 ml bottles). It is important that the capacity of the packaging itself must not exceed 100 ml and is written on the outside.
This means that if you take a 200 ml shampoo with you, which has already been half used up (there are only about 100 ml left in the packaging), this can be taken away from you during the security check. Because on the packaging the shampoo is marked with 200ml and this is crucial during the safety check.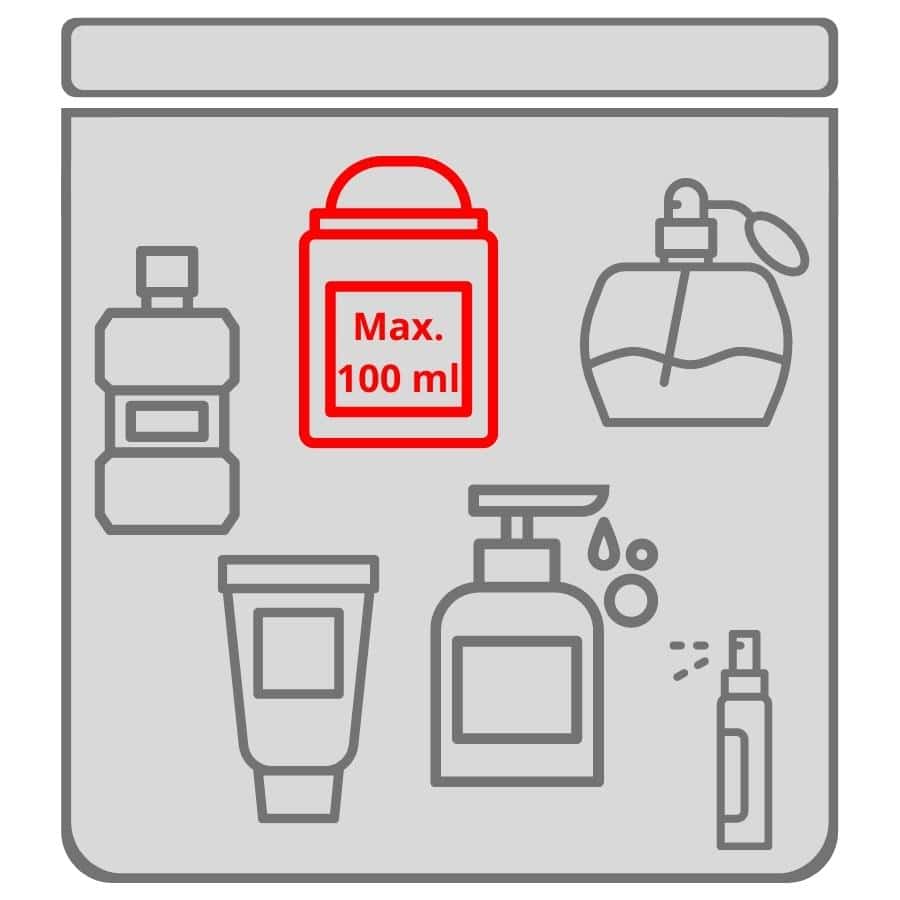 What liquids are allowed?
In principle, the guidelines for carrying carry-on baggage are specified by the EU . However, airlines may reserve the right to further restrict these guidelines as they see fit.
For most airlines, the following applies:
The following may be carried in carry-on baggage:
Creams, ointments, oils and lotions
Make-up, mascara, lip gloss, lip balm, lipstick
Toothpaste, roll-on deodorant, shaving cream
Shampoo, conditioner, shower gel
Hair gel
Nail polish
Parfum & Eau de Toilette
The following may not be carried in carry-on baggage:
Hair spray
Deodorant spray
Nail polish remover
The correct transport of cosmetics in hand luggage
All liquids must be carried in a transparent bag or pouch in carry-on baggage. Don't worry, at some airports you will be offered bags for your liquids at the security check.
---
Power bank in hand luggage
First of all: Power banks should always be carried in hand luggage and not in checked baggage!
The simple reason for this is that there is an increased risk of fire and a fire cannot be detected quickly enough in the regular luggage compartment or there is not sufficient extinguishing capacity.
Common restrictions (depending on the airline):
Only 1 or 2 power banks per person may be carried.
The power bank must have a CE marking . Most products that are manufactured according to European standards have this marking.
Only power banks with an output of less than 100 Wh (watt hours) may be carried.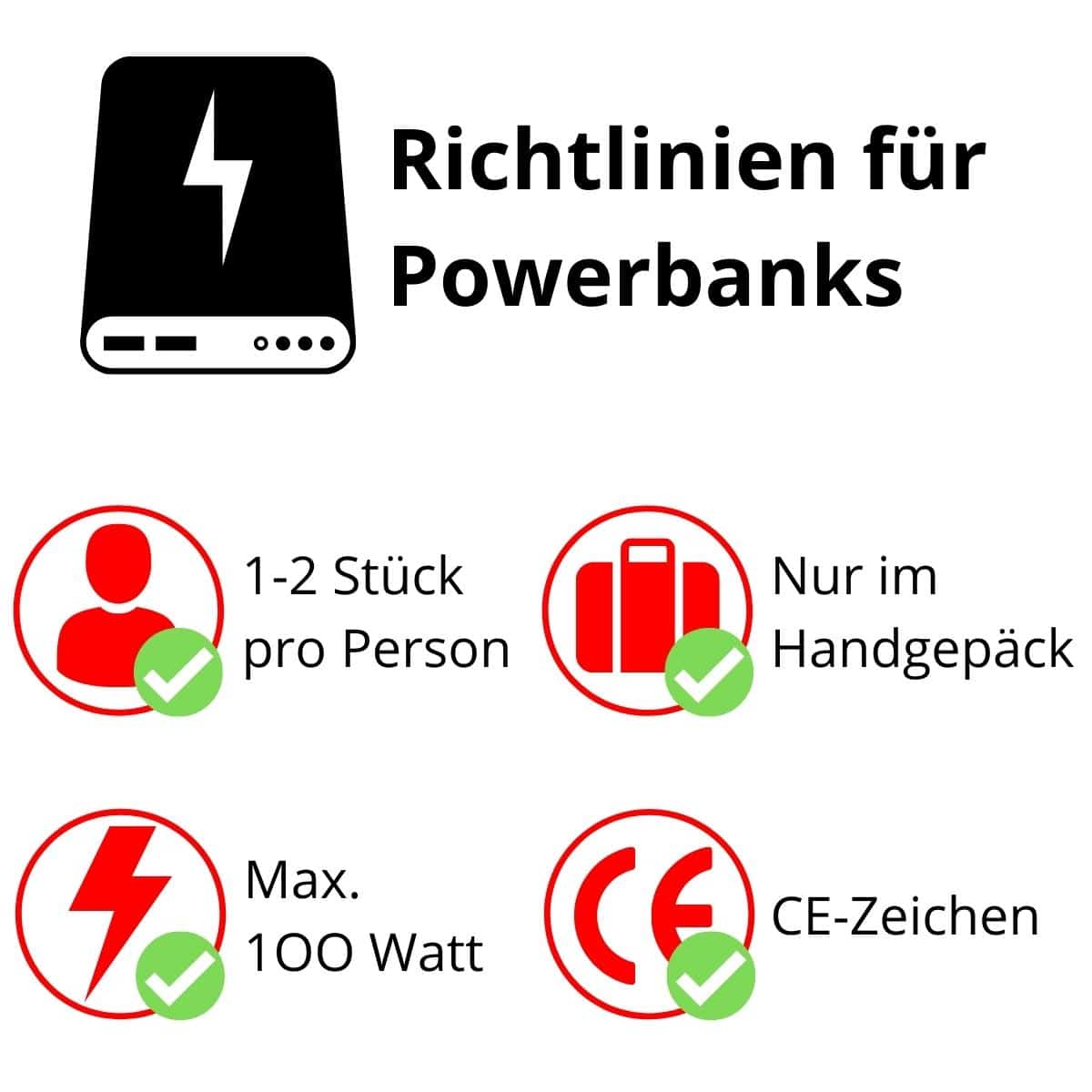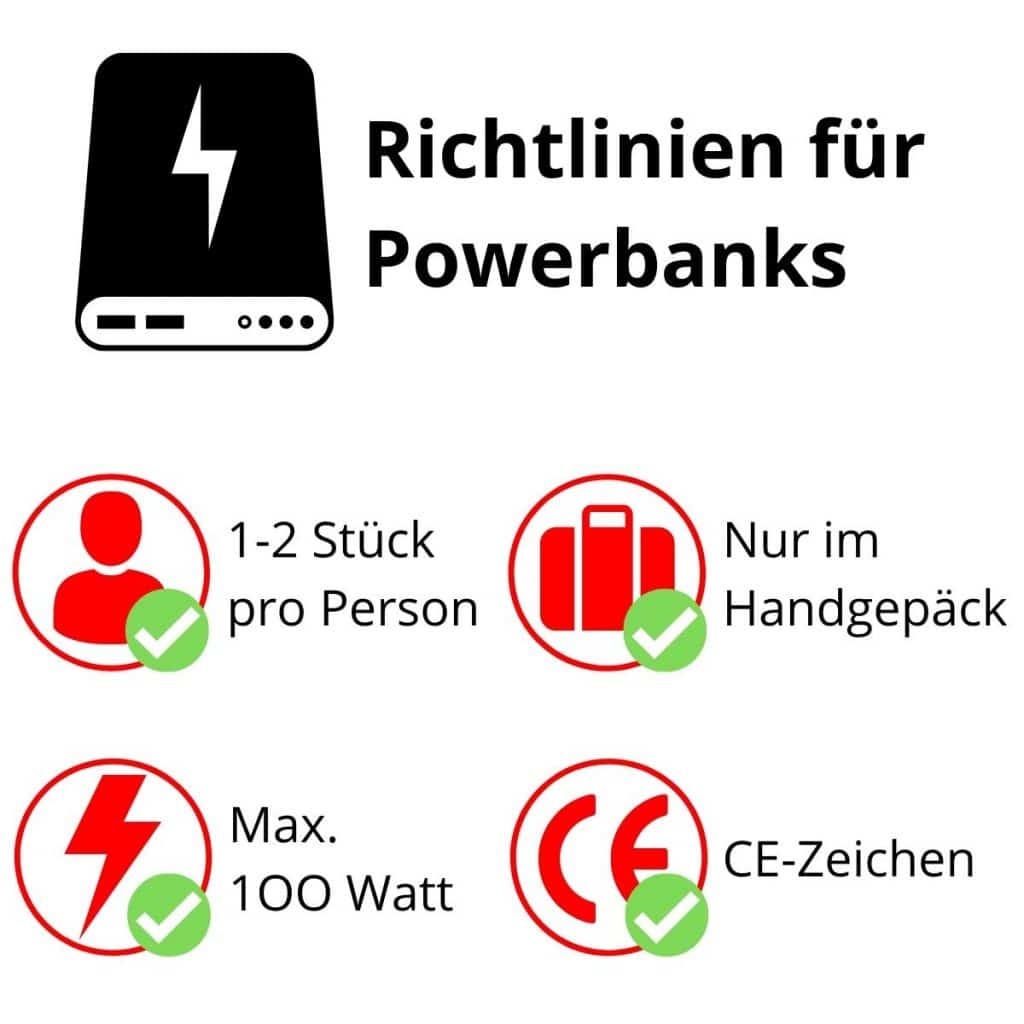 Calculating the watt-hours of your power bank
Manufacturers often specify the capacity of the power bank in the unit mAh (milliampere hour). With the help of the voltage of the power bank (=Volt or V) you can easily calculate the watt hours.
A simple example:
They have a power bank with a capacity of 10,000 mAh and a voltage of 3.7 volts.
Milliampere-hours * volts / 1,000 = watt-hours
10,000 * 3.7 / 1,000 = 37 watt hours
A power bank with this capacity and voltage should therefore be carried in your hand luggage without any problems.
See power bank deals*
---
Batteries in carry-on luggage
Built-in batteries
Lithium batteries, which are permanently installed in devices for personal use, are generally permitted in hand luggage or on board.
These include smartphones, tablets and smartwatches.
External batteries
Depending on the airline, only 1 or 2 external lithium batteries per person are allowed in hand luggage. However, the use of these batteries is usually prohibited during the flight.
The batteries must be neatly packed individually to avoid short circuits. As with the power banks, a regulation of .max. 100 – 160 watts of all batteries together.
Guidelines for carrying rechargeable batteries and batteries of the airlines
We have prepared for you the links to the dangerous goods policies of some airlines:
---
E-cigarettes on the plane
Smoking e-cigarettes at the airport or on the plane is prohibited, as is smoking conventional cigarettes.
How can an e-cigarette be carried?
The transport of the e-cigarette in hand luggage is permitted, even if you are not allowed to use it. Under no circumstances should the e-cigarettes be transported in checked baggage.
The liquids of cigarettes , in turn, are subject to the same regulation as all liquids in hand luggage. They may therefore only be taken in small quantities (max. 100 ml) and in separate, transparent containers.
---
Straightener / curling iron in hand luggage
It is permitted to carry small electrical appliances in hand luggage. These include straighteners and curling irons.
If you want to be on the safe side, you should still read your airline's terms and conditions online or contact the airline's customer service.
See hair straightener deals*
See deals on curling irons*
---
Tweezers in hand luggage
Tweezers, nail clippers, nail files and eyelash curlers are generally not considered dangerous and may therefore also be carried in hand luggage .
An exception, however, are so-called splinter tweezers. These have a particularly pointed end and are classified as a dangerous object by many airlines.
As a general rule, if you cannot prick or injure yourself with the tweezers, they are allowed in your hand luggage.
See deals on tweezer sets*
---
Contact lens solution in carry-on luggage
Liquids may only be carried in hand luggage up to 100ml each . Exceptions to this are medical fluids, but contact lens solutions are NOT included.
For you, this means that you can carry your contact lens solution in your hand luggage, but it must not exceed 100 ml. In the meantime, contact lens solutions are also available on the market in the permitted travel size .
See deals on contact lens solutions*
---
What is prohibited in carry-on baggage?
There are some items that are absolutely prohibited in carry-on baggage due to possible danger to passengers and crew.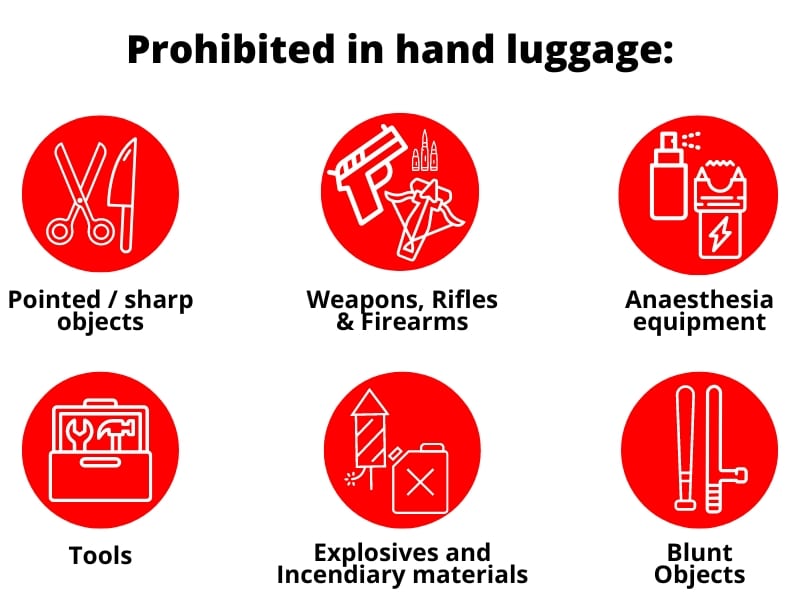 Weapons, Rifles & Firearms
Pistols, revolvers, rifles, shotguns and other firearms of all kinds
Parts of firearms
Toy weapons, as well as replicas and imitations of real weapons
Signal pistols and starting pistols
Pointed or sharp objects
Razor
Needles
Axes, hatchets and cleavers
Knives and scissors
Utility knife
Swords and sabres
Anesthetic devices
Taser, stun guns, stun sticks
Apparatus for stunning and killing livestock
Chemicals, gases or sprays that cause incapacitation
Tools
Crowbar
Drills
Saw
Bolt guns
Blunt objects
Baseball and softball bats
Clubs and batons like bats
Martial arts equipment
Explosives and incendiary substances
Ammunition detonators
Detonators and detonators
Replicas or imitations of explosive devices
Dynamite, gunpowder and plastic explosives
---
How big can your hand luggage be?
The guidelines on the size and weight of hand luggage for different airlines can be found in our article on this topic.