What Corona regulations apply to a cruise with a ship of the "Mein Schiff Fleet"?
We are happy to answer this question in this article.
Status of information: 22.12.2021
The regulations and requirements are subject to change due to the pandemic.
You can read about the current measures on the website of the "Mein Schiff Fleet"
---
Corona measures during your trip
For the safety of the guests, the ships are only used to 60-80% of the normal capacity
The guest areas (e.g. tables and chairs) will be adapted to ensure the minimum distance between holidaymakers
Masks are generally compulsory inside the ships
In the outdoor area of the ships, masks are only compulsory if a distance of 1.5m cannot be maintained
The existing cleaning and hygiene concept has been improved and expanded
For excursions, the number of participants will be adjusted according to the Corona regulations of the respective countries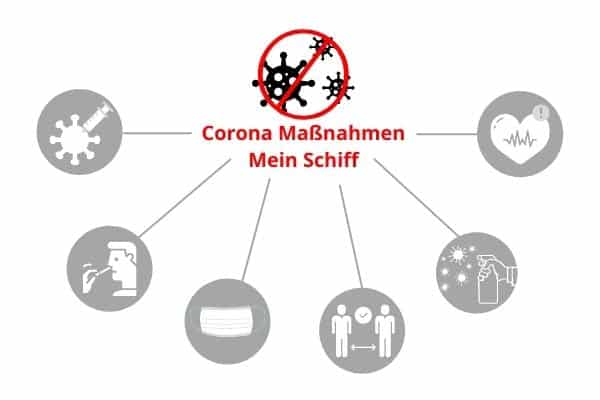 Mandatory testing and vaccination for the "Mein Schiff fleet"
From 23 February 2022 , the Corona protection measures will be standardised on all ships in the "Mein Schiff fleet".
Vaccination is mandatory for passengers aged 12 and over and for the entire crew. From 23.02.2022, only children under the age of 12 will be granted access to a cruise ship of the "Mein Schiff Fleet" without valid vaccination protection.
In addition, you are obliged to carry out two Covid-19 tests before departure. The costs for these tests are not included in the travel price. This means that you have to pay for the test costs yourself.
Through these measures, "Mein Schiff" or TUI Cruise aims to offer you, other guests and the crew the best possible safety .
Information on vaccination protection
Which people are considered "vaccinated" and which vaccines are granted depends on the respective requirements and regulations of the destination countries .
Information on the requirements for vaccinated and recovered persons can be found on the following page:
Medical Care & Prevention
There will be more specialist staff in the on-board hospital
Testing capacities directly on board are provided
Establishment of an early warning system with daily temperature measurements and documentation of contacts (e.g. in a restaurant)
In case of suspicion, the possibility of isolation of individual guests will be provided

If necessary, quarantine accommodation on land, care in the cruising area and the return journey will be

organised