Learn how to check in your flight online with Delta Air Line and baggage regulations.
How does Delta Online Check-in work?
To complete your Delta Online Check-In, please follow these steps:
Open the Delta Air Line website by clicking on the following link:
https://de.delta.com/PCCOciWeb/findBy.action
With Delta, you have the option of online check-in using various stored information. Check-in can be done using the confirmation, Skymiles, credit card, debit card or ticket number.
Enter the requested information according to your chosen booking option. After entering it in the check-in mask, you can check in yourself and all persons traveling with you.
You can also specify the number of pieces of baggage, make changes or book extra services at check-in.
You can then print out the boarding card of your Delta Online Check-In or save it on your mobile device via an electronic boarding pass or send it by e-mail. When boarding at the airport, the boarding pass is only valid together with an official photo ID.


Important for Delta Online Check-in
When will you be able to complete Delta Online Check-in?
You have the option to complete your Delta Online Check-In within 24 hours of departure. You can do this conveniently from home via your computer or on the go on your mobile phone.
It is recommended to arrive at the airport at least 75 minutes before departure (within the United States).
In any case, please note the boarding times at the airport next to the flight!
Extra services of Delta Air Lines
When checking in online, you can also reserve a seat if you wish. You can find out more about this in our article "Delta Air Lines Seat Reservation".
You also have the option of upgrading your passenger status or seat (e.g. to leg-free) during online check-in or booking additional baggage.
Please note that such extra services may also entail additional costs.
Carry-on baggage with Delta Air Lines
Number & Weight
Each passenger is allowed to carry one piece of carry-on baggage. In principle, there is no weight limit except for certain departure airports.
In addition, you may carry another personal item with you (e.g. laptop bag, handbag…).
Size
For all classes there is a max. Total carry-on size 114 cm or 45 inches (length + width + height)
Also, a dimension of 56 x 35 x 23 cm must not be exceeded.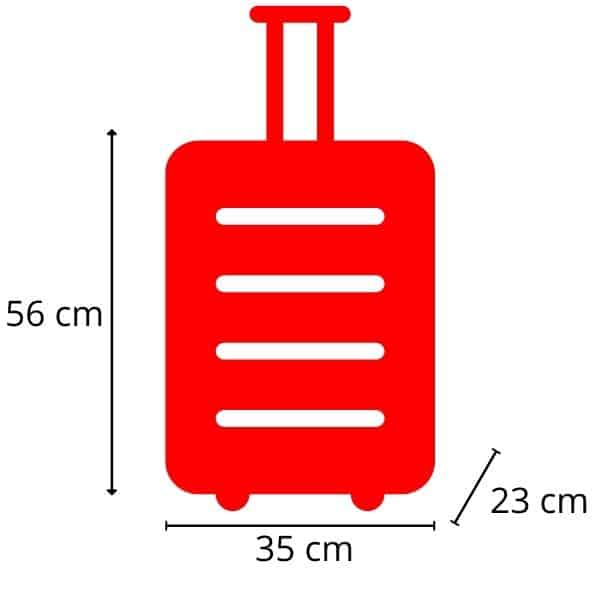 You can find out more about Delta's general baggage policy on this page.
General information about Delta Air Lines
Delta Air Lines is an airline based in Atlanta, Georgia, United States. The airline was founded in 1924 and today offers flights to more than 325 destinations in over 50 countries. The airline is a member of the global airline alliance SkyTeam and offers passengers access to an extensive route network and joint frequent flyer programs. Delta values high levels of service and comfort for its passengers and offers a wide range of travel classes, including Economy, Comfort+ and Delta One Business Class. The airline has received several awards for its quality and performance, including the "Best Airline in North America" award.
Flying with Delta Air Lines during Corona times
Very few people travel by plane in times of Corona. If you have decided to fly with Delta, then it is best to inform yourself about the hygiene rules and regulations of the airline .
Online check-in instructions from other airlines
Do you have connecting flights that also need to be checked in or are you looking for other airlines? More information can be found on our main page.