Checked baggage
Checked baggage is always divided into free baggage and excess baggage or special baggage. The checked baggage allowance is free of charge, as it is included in the flight ticket.
Baggage allowance with Air Cairo
The free baggage allowance on your flight depends on the fare you have booked and the flight zone (departure airport – destination airport). In most cases, 23 kg baggage allowance is included on most international flights. For more information, please visit the Air Cairo website.
Excess baggage at Air Cairo
If your baggage exceeds the baggage allowance policy, it is called excess baggage. Excess baggage must be paid additionally. If you already know in advance of your trip that you are carrying excess baggage, we recommend that you book the excess baggage via the Air Cairo flight portal.
To do this, go to the following link: https://aircairo.com/my-booking
Enter your booking reference and last name to access your booking. Booking reference is a number that you should find in your booking documents for the Air Cairo flight .
You will then have the option to manage your flight and book excess baggage.
Special baggage with Air Cairo
Special baggage is larger and heavier than ordinary checked baggage.
Bulky baggage: This includes bulky or unwieldy items such as bicycles, golf equipment, surfboards, skis or snowboards. This type of baggage often requires special arrangements and possibly additional fees for transportation.
Sports equipment: If you want to bring your own sports equipment, such as diving equipment, fishing, kayaking or other sports equipment, it is considered special baggage. Airlines usually have specific policies and fees for the carriage of sports equipment.
Musical instruments: Musical instruments such as guitars, violins, wind instruments or drum sets are also considered special baggage. Since they are often delicate, you should take special protective measures, such as buying an extra seat or using special carrying cases.
Additional charges apply for special baggage.
Taking pets with you?
Depending on the flight, you can also take pets with you on the trip. In doing so, the EU directive on the transport of pets must be complied with. You can find out what you need to consider in this article.
The combined weight of pets, including containers and food, must not exceed 8 kg and will not be counted as part of the passenger's baggage allowance. Only one pet is allowed per container, as well as only one pet per passenger.
The container must be placed on the ground at the passenger's feet during the flight. Air Cairo also charges additional fees for taking your pet with you.
Hand luggage with Air Cairo
Number & Weight
You are allowed to take one piece of carry-on baggage with you, which must not exceed a maximum weight of 7 kg. The largest dimensions are allowed to be a total of 118 cm (45 inches), taking into account the length, width and height (55 + 40 + 23 cm).
Size
These dimensions also include wheels, handles, side pockets and the like.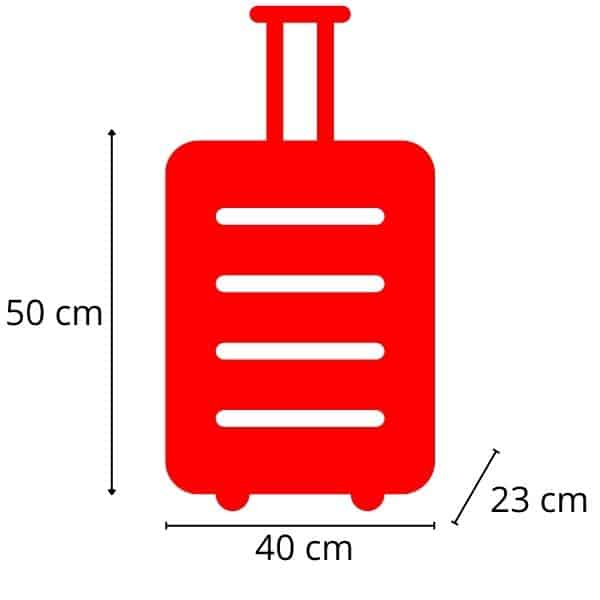 In addition to carry-on baggage, the following items can be carried as carry-on baggage:
An umbrella or walking stick
A small camera
Binoculars
An appropriate amount of reading material for the flight
A pair of crutches and/or suspenders required by a passenger
A laptop
What is prohibited in carry-on baggage?
There are some items that are absolutely prohibited in carry-on baggage due to possible danger to passengers and crew.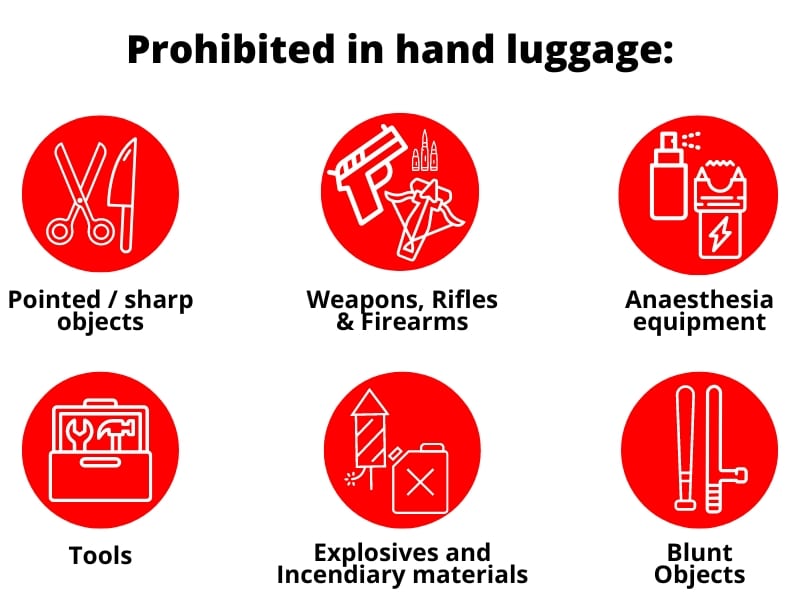 Weapons, Rifles & Firearms
Pistols, revolvers, rifles, shotguns and other firearms of all kinds
Parts of firearms
Toy weapons, as well as replicas and imitations of real weapons
Signal pistols and starting pistols
Pointed or sharp objects
Razor
Needles
Axes, hatchets and cleavers
Knives and scissors
Utility knife
Swords and sabres
Anesthetic devices
Taser, stun guns, stun sticks
Apparatus for stunning and killing livestock
Chemicals, gases or sprays that cause incapacitation
Tools
Crowbar
Drills
Saw
Bolt guns
Blunt objects
Baseball and softball bats
Clubs and batons like bats
Martial arts equipment
Explosives and incendiary substances
Ammunition detonators
Detonators and detonators
Replicas or imitations of explosive devices
Dynamite, gunpowder and plastic explosives