Are you planning a cruise with TUI Cruises or with a ship in the "Mein Schiff Fleet"?
Then you've come to the right place.
On this page, you can find out how check-in works and what corona measures are in place.
---
"Mein Schiff" online check-in – step by step
Open the "my trip" portal of TUI Cruises under the following link:
https://meinereise.tuicruises.com/login
Log in to the portal with your first name, last name, and case number.
Select the "Online Check-in" in the portal.
Once you have landed on the overview page of the online check-in, you can start your check-in by clicking on the "Check in now" button.
Fill in all required fields (marked with an asterisk).
Under the item "Selection of persons" you can select additional persons traveling with you.
Then indicate the place of departure as well as the desired embarkation time.
As soon as you have made all the entries, select "Check data" and make corrections to yours in case of error messages.
If all the data has been entered correctly, you will land on an overview page with all the information you have provided.
Please check this data again thoroughly to avoid errors.
You can use the "Check in online now" button to submit your data.
If the check-in is successful, you will return to the overview page. There you can either print out your ship's passport directly or download the ship's passport as a PDF.
Your "Mein Schiff" online check-in is ready!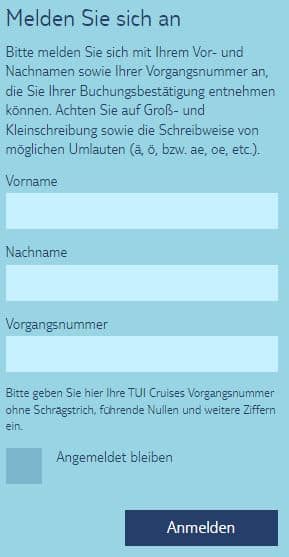 Notes on "Mein Schiff" online check-in
Online check-in can only be carried out once the ship's manifest (contains your personal passport data) has been fully completed in the portal
In most cases, you can check in online from 21 days up to 24 hours (CET) before departure
In some cases, however, online check-in is only available at short notice and only until 5 p.m. at the start of the trip
Check-in time slots
There are fixed time slots for check-in for individual arrivals, which you should adhere to. You can select one of the predefined time slots in your "My Trip" portal. If you do not use this option, you will automatically be assigned a time slot immediately before the start of the trip.
The timing of the check-in is intended to limit the number of people at the port terminal as much as possible. Access to the port terminal is not permitted outside this period.
Guests arriving by bus or plane with the TUI Cruises travel package do not have a time slot. Likewise, there are no fixed check-in time slots for guests with suites, junior suites and VIP rates.
Check-in checklist
What documents and information do you need to prepare for online check-in?
The ship's manifest must be completed in full on the portal at least 6 weeks before the start of the voyage
To log in to the "My Ship" portal, you will need your travel documents with the transaction number
Prepare your identification documents such as passport or ID card
Think about which payment method you would like to use for the on-board bill and prepare the necessary documents
If you have any questions about your journey with TUI Cruise, please have a look at the "Mein Schiff" website at:
https://www.meinschiff.com/leinen-los/logbuch
"Mein Schiff" Corona Regulations
Are you planning a cruise with "Mein Schiff"? Then take a look at the current corona measures and regulations for the "Mein Schiff Fleet" now.
Are you arriving at the port by plane?
Then take a look at our check-in step-by-step instructions for your airline.