You have booked a China Southern Airlines flight and would like to check it in now. Very good – International airlines often have all the information in English. Here you will find the check-in process and important information described on german.
You can start your online check-in directly on the China Southern Airlines homepage: https://www.csair.com/en/online/check_in/
You need to scroll down a bit on the home page. There you will come to a section with "My Travel Management". Next to it, select "Online check-in".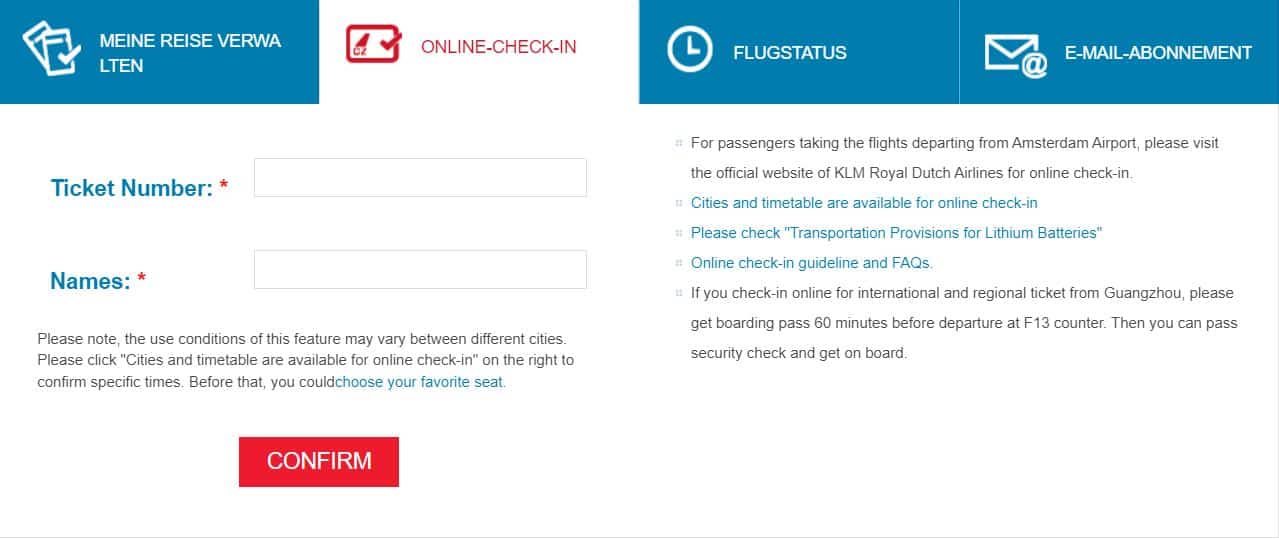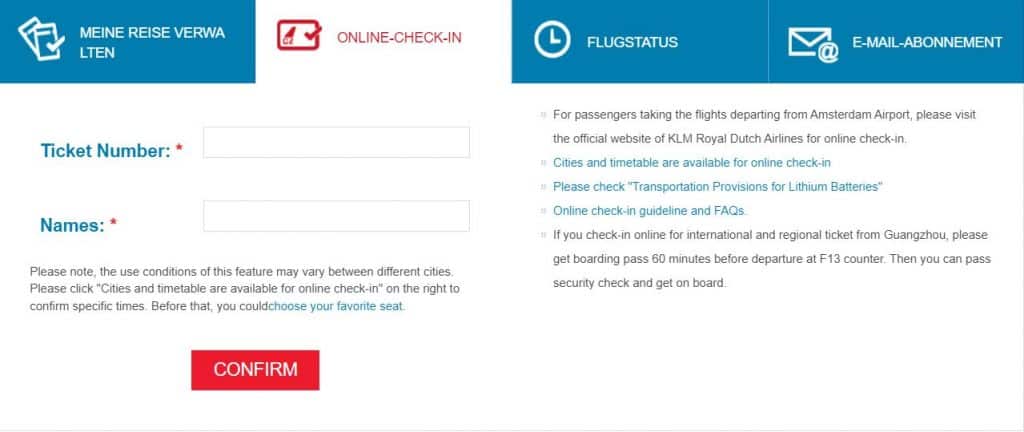 How does the China Southern Airlines Check in work now?
Exactly?
4 steps for the CSAIR Check In
With the following 4 steps you can complete the online check-in of China Southern Airlines.
First, enter your ticket number and last name
In the second step, select the China Southern Airlines flight to be checked in.
Use the seat lists to select one of the free seats. Please note that there are additional costs for a certain selection of seats. However, these should always be displayed.
Confirm your check-in and receive your boarding ticket either as a download or send it to yourself as an e-mail.
CSAIR Check In Reserve your seat
Seat reservation is available for all adults and children who have purchased tickets for flights with CSA as the actual airline. To do this, enter your China Southern Airlines ticket number in the fields on the following page and follow the instructions:
https://extra.csair.com/B2C40/modules/services/seatnew/login.html?lang=en
Once you have reserved your seat, please log in to the CSA Online Check-in system to check in. However, you can also check in with your reservation at the CSA check-in counter at the airport. In the event of a flight cancellation, combination or change of aircraft type or seat arrangement, the seat number you have reserved may change.
Pre-order CSAIR Check In Meal
Reserve your meal on your CSAIR (China Southern Airlines) before your flight.
To do this, use this page and log in with your ticket number and name.
https://extra.csair.com/content/meal/index.html?&lang=en#/
Please note that meal reservations must be made 24 hours prior to departure time for flights departing from China and 48 hours prior to departure for kosher meals and flights from other countries and regions.
Important information for the check-in
If you are checking in online to receive your ticket from Guangzhou Airport, please pick up your boarding pass at the P4 counter 60 minutes before departure. Only then will you pass through security and board.
What you
should know

about China Southern Airlines:

China Southern Airlines Headquartered in Guangzhou, the company was founded in 1988. As the largest airline in the People's Republic of China, it serves international and regional routes. China Southern Airlines is one of the 10 largest airlines in the world and owns a fleet of 620 aircraft.